This chartreuse woolly bugger was the 'go-to' fly that we clobbered the kokes on in the Taylor last summer.
Though the original recipe included both yellow and green saddle hackle, as I was lacking the yellow, I tied it without, and still got gobs of strikes. And hubby landed about 30 kokes in one morning on about 3 of these, and lost quite a few more on breakoffs. The browns were also hitting this one pretty hard.
Taken from Gary Soucie's
Woolly Wisdom
, a great book cram-packed with all things woolly and fishable, this was actually a steelhead pattern, and with a few tweaks of my own, we called it the 'Chartreuse Mugger'.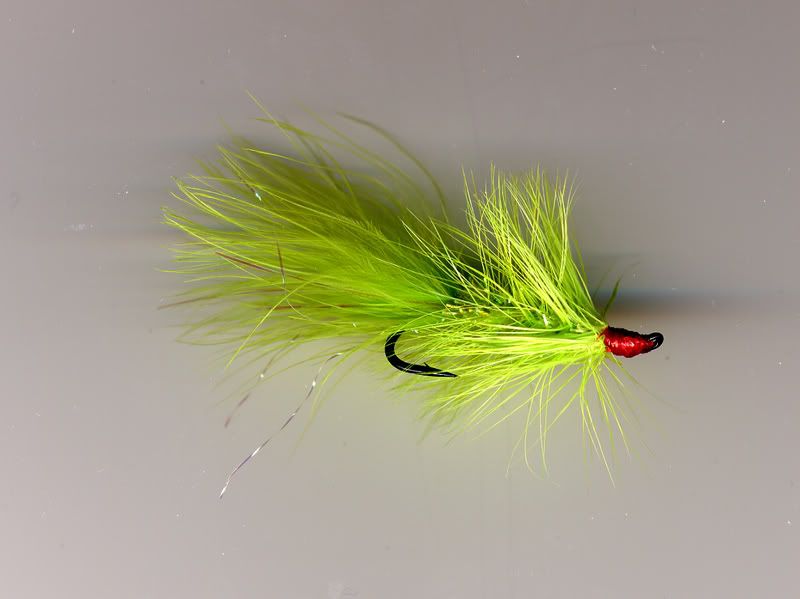 Hook: Orcis 1645, a Tapered Loop Up-Eye, 1x Strong, Forged Black.
Thread: Red 6/0 Orvis or comparable Danville or UTC.
Tail: Chartreuse marabou
Flash: Pearl Flashabou
Body: Orvis Ice Chenille, Micro Chartreuse
Underweight: 25 turns of .015 lead wire (slow sinker) or .025 lead wire (faster sinker)
Head: Tying thread. A bead is actually not recommended for this fly. Unless you use a plastic bead.
Hackle: Green saddle (look at the steelhead and saltwater tying colors) I had tried these with Schlappen, which is used for large saltwater flies, but it's really not proportional for the size of the hook.
If you use head cement, I'd actually recommend super glue for this fly. Dries darn fast, and makes a good hard head. Apparently the fish must take that head for an egg... haven't had a chance to ask 'em!
Fishing tip: if fishing the fast water with the slow water underneath, fish on very heavy, short lines. Usually a 0x, 7.5' tapered leader is just fine, with about 18" of 1x tied to your top fly (recommend use of a size 6 or 8 Mickey Finn) tied with a Palomar knot, and drop another 12-18" below that, and tie on your Chartreuse Mugger. Usually will need to adjust and add at least one large (think spin fishing size - about the size of a green pea) split shot about 12" up from the top fly. Cast out, shoot the hole, and watch your flies drift down in there. You'll feel the flies, and usually see them, drift down into the pod of fish. Males tend to hit the Mickey Finn, females tend to go after egg-y stuff. We got a mix of both hitting the Mugger. And browns, which tend to hit egg patterns, too. They swim below the pod of salmon, hoping to catch some released eggs.