Fast, just shiny enough to catch their attention. Ties up quick. Tie several, you may lose a few!
Fish two or more on droppers, international rules style (4-6" droppers) and put a split shot on the bottom. Lower these and jig very slightly in the water column where the fish are. If there are scuds or similar critters in the water, the fish clomp on these, including small pike at Tarryall. Randy lost about five of these at Tarryall right at first ice last December.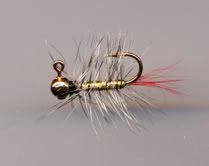 Hook - Size 10 hook jig head with gold head (Wapsi)
Thread - 6/0 black
Tail - red hackle fibers
Body - DMC Gold embroidery floss (2 strand - I untwisted and used 1) - I think it's for Counted Cross
Hackle - Grizzly, from a Whiting Bugger pack - try the sparse style by stripping, or alternately, cutting the barbs off one side of the feather, and wrapping with the curve of the feather going towards the tail. Choose a hackle that seems a bit large for the hook - remember, it will collapse slightly when wet and is trying to mimic legs and add some dimension.