I tied these up about a year ago and never used them until last week through the ice at Barbour Ponds.
Worked like a charm - looks like a real soggy mealworm or wax worm.
Hook: TMC 2487, Size 14
Bead: Metz Black (enameled) Tungsten bead, 5/64"
Thread: Tan 6/0
Abdomen: UV Light yellow ice dub
Rib: 1 strand Holographic Gold Flashabou
Thorax: Cinnamon ice dub.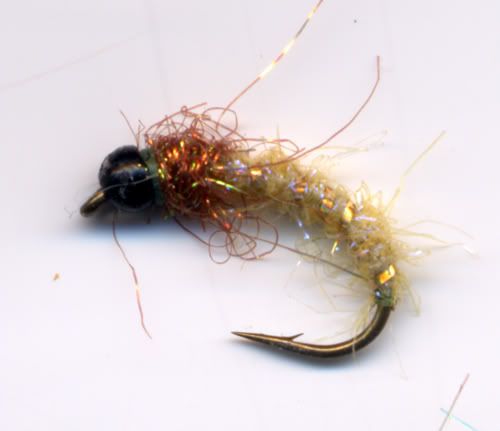 Simple and plain - you might want to brush out the thorax under the bead for 'legs' with a velcro brush.
Whip finish under the bead.
I fished these under a red midge attractor, tied international rules, with a split shot below. Jig aggressively to get the fish's attention, then pop up and let 'er fall. Looks like bait on the bottom!