Haven't had much chance to fish these lately - looks beautiful in the box - drops like a rock.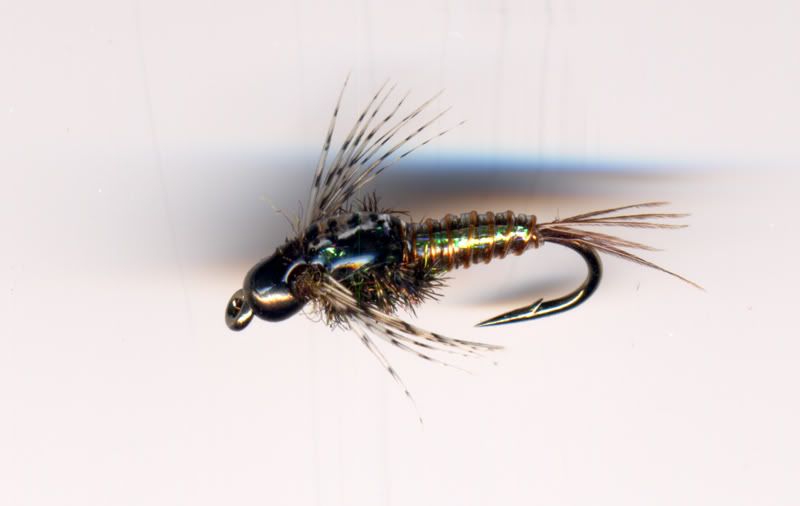 Hook: size 10 or 8 2X long nymph hook (remember, these dudes are big)
Thread: Olive 70 denier UTC thread.
Bead: black (gunmetal) tungsten, sized to hook
Underweight: 15 turns of .020 lead, jammed into bead - will also create some bulk in abdomen.
Tail: 5-7 strands pheasant tail, you can add 3 strands of clipped moose hair or whiskers from something with whiskers - maybe your hare's mask - the tails on these guys are spiky. Create a thread 'bump' on the bend of the hook where you tie your tail in
Flashback - mirage tinsel (med) or alternately ice blue flashback (med)
Abdomen/rib: small Amber Ultra Wire (can use copper too), threaded into a 3" long piece of Midge size Stretch Tubing (I prefer the Hareline stuff because of its wall thickness and stretchiness) - tie tubing in at same time you tie in flashback - fill in the gap left by the lead wire with your tying thread, and covering the pheasant tail, flash, and tubing will help bulk it up. Take thread up to about 70% point, then bring up first flashback and tie down, then grab tubing and stretch slightly as you go, in touching turns, about 8 segments up to thread. Tie down tubing, helicopter the wire until it breaks off, and stretch tubing as you snip - gets end nice and neat.
Thorax: Purple dyed peacock herl. You can try substituting other colors, but man, it's something about the purple. I tie this pattern on a Nor-Vise, and spin the herl into a chenille - and wrap up to about an eye-width behind the bead. You could probably do the 3 strands turned as a rope - but that chenille thing is just sooo different, and holds up really well after multiple fish. Tie down with a half hitch or a three turn whip finish. Pull flashback up and over at this point and tie down too.
Legs: a 'v' of a partridge feather - pick a nice one with a length you like, snip the tip out of it to create that 'v', and tie in. Sometimes easier to tie the left, then the right.
Collar: a little 'Iron Blue' SLF, just to fill in the gap. Whip finish.
Shellback: 5 Min epoxy or UV Knot Sense or any of that fancy stuff - catch in the whole back of the thorax - helps hold things together, makes that flashback really shine.
Now go catch some fish!