Discussion Starter
·
#1
·
Hi Guys,
I remembered my camera this time!
We were on the ice on the north shore at 6:15 AM and started getting hammered by first light (with fish, not booze!)
We iced 7 and lost 4 by 8:30 and then it was good night.  We piddled around the reservoir for awhile, tried to buy my 2006 Parks Pass several times but the ranger was busy inspecting licenses on the ice, then finally made it to Stoll where we iced the last fish around 3:30.  Should have packed it in at 10Am but it was too nice. 
I was able to buy my parks pass on the way out and the ranger told me that Witchers was producing kokanee in 25 feet of water over the channel today.  He even said that pike were iced at Witchers as well.
Anyway, on to some photos.  Here's the lineup with the smallest being 15" and the largest 19 1/2".  All but one were on Ratsos (orange and pink with white heads) tipped with waxworms - the other was on a paddlebug with a mealy.  Two of the girls were loaded up with eggs, one quite mature while the other was small and will make good egg sacks for Granby Lakers in a couple of weeks (I'm going the week after the Forum).   Later!
The Lineup (it's a 22" net)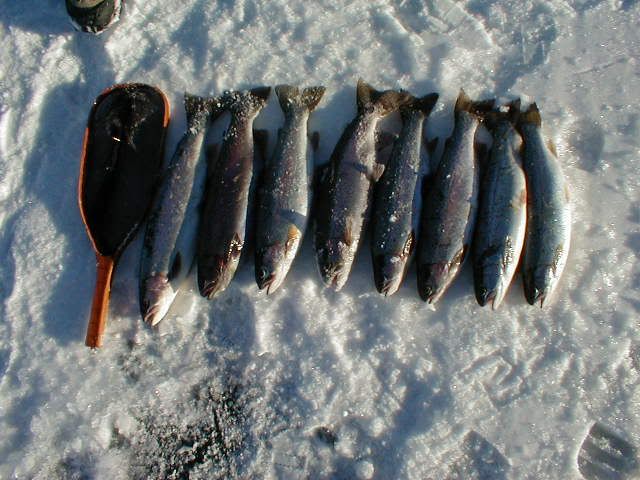 My Son with The Big Guy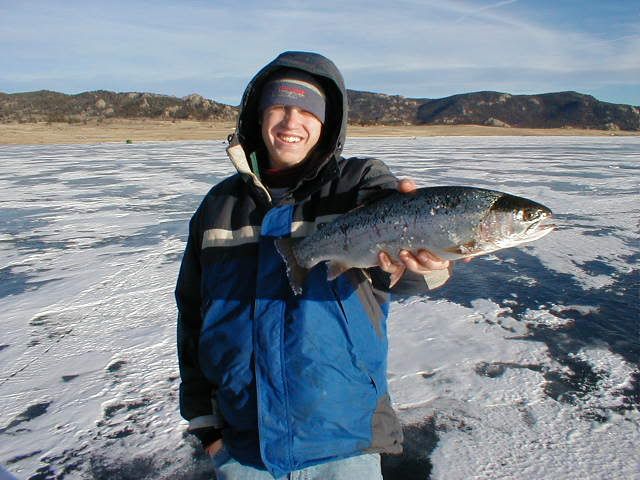 Here's an Even Better View of the Catch