Discussion Starter
·
#1
·
fished 11 mile from 7-1030. nothing for me as usual. Fished NS buoy line in 20FOW with jiggin box, but could not tempt any kokes. Saw a few bows in 7' fow right in front of rocks west of NS parking lot, but no strikes either.
Then we fished the canyon after being  skunked at reservoir. The weather was absolutely fabulous and the fishing was EXCELLENT. Fished from 1130-330. Action was hot for the first 2 hours then died down. I released 4bows and 3 browns, my partner had about a dozen. They were hitting my koke set up----a 3/8 rainbow kastmaster on my ice rod! Nothing real big, but definitely tons of fun!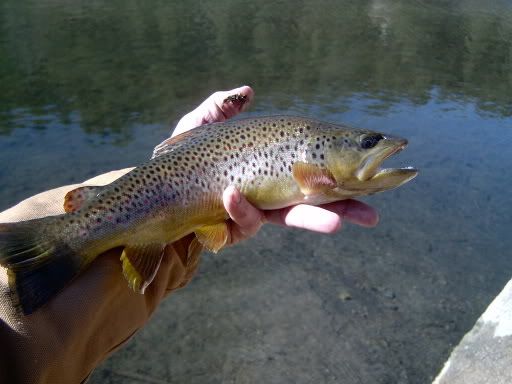 the last 2 fish are the same. Notice how much bigger he looks IN the water.