Discussion Starter
•
#1
•
After a less than great day at A-town looking for perch and eyes, and only finding trout. We decided to try old faithful on Sunday since we still had a bucket full of minnows left. We got to the lake at 6:15 and to the gps spot we haven't fished this year by 6:45 to see if we could get into any walleyes/smallies or perch. We decided to go light but opted for the 10" power auger instead of the 6" hand ... glad we did.
Armed with 4lb test line and one med action rod (deadstick) with a pink ratos and one light action rod (jigging) with a perch buckshot rattle spoon, both tipped with a minnow, I started fishing in 28' of water next to a break that went to 50'.
By 7:15 I had a few lookers but no takers, then a nice thick red line on the vex appeared on the bottom would follow my buckshot jig up to about 3' off the bottom but wouldn't commit. I let it fall all the way to the bottom and wam! fish on! ... after 5-10 minute battle I pulled this little beasty from the hole.
28" 11 lb channel cat: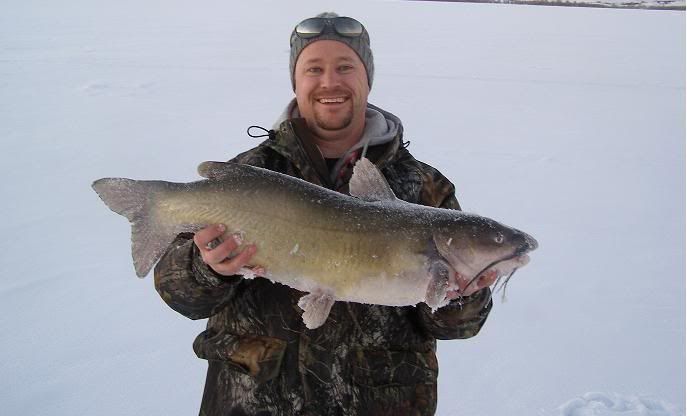 After quite a few minutes of taking pictures and looking at the largest fish I'll taken from the ice it was back to business... In the next 30 minutes my fishing partner caught a 12" smallie and 10" perch. During that time I had some more looks but no takers, until I looked over to my left and saw my buster bobber going down to the depths.... then after another 5-10 minute battle I pulled this one out:
33" 16.5lb channel cat: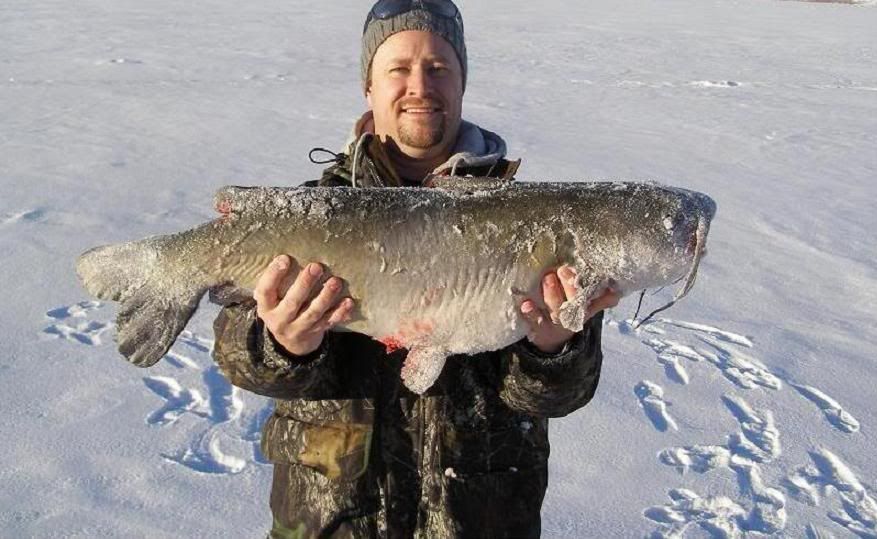 To say the least it was a great morning on the ice! I'm sure glad we went with the 10" auger. I'm still surprised that the little ratso (smaller than dime) was able to handle that 33" cat. We fished till 10am, had to leave for family time, but only caught one more smallmouth at 15".