Discussion Starter
•
#1
•
Fished the last two days and here are the results:
Sunday Morning 10/10/10
Took our usual Sunday morning trip of the week before football. Headed out with Joel and my dad. Got out to the lake at 6:00am and started casting Jerkbaits. I was fishing a rogue and on the first cast, I hooked a beast. Ran straight at me and then took drag out before coming unbuttoned. I was saddddd. But I shook it off and landed a 15" eye on the next one.
Fishd for a bit longer than caught a couple more dink eyes. Joel tied on a jerk and then he hooked up as well. Couple eyes. Then it started getting lighter outside and we switched to topwater. Cast around for a while and my dad hooked up with a decent bass. Fought like a champ.
It got a bit slower then and we suffered for a bit. Saw a BUNCH of shad running but couldn't get a hit. FISH63 joined us for a bit and Kurt headed out and fished a ways from us most of the morning.
We tooled around for a while then finally found a little honey hole at about 8:15. Joel was the first to hook up. Nice wiper and it took him a while to reel it in.
We let that one go and then it was my turn. Same exact spot on the lake and it slammed my spook. Turned out to be quite a bit smaller. Maybe 4 to 5 lbs. We kept that fish to eat during the games.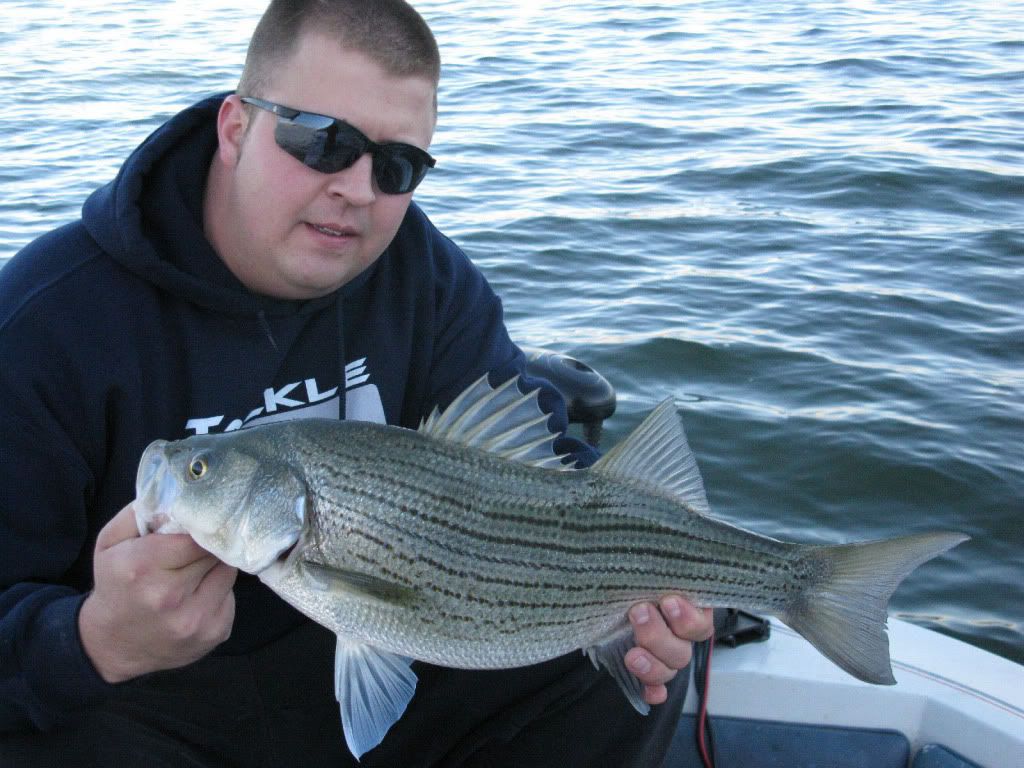 I ended up catching one more wiper in that spot about the same size. We headed in at about 9am to watch some football. I think Kurt and his dad both caught a wiper each. Not bad for only a couple hours of fishing.
P-lo slow day today. 10/11/10
Thanks to Columbus and his wonderful discovery, I had the day off of work paid today. Couldn't think of anything better to do than fishing so Kurt and I headed out around 11am to get some fishn in. Put the boat in the water and saw the lake temp was about 66 degrees....starting to cool down for sure.
Took off and tried for some bass right away in two different spots and only got a couple of hits. Wasted about 45 minutes doing that and Kurt only caught one dink. So I suggested another spot on the lake and it was slow there too. On about the 15th cast or so, Kurt hooked into a nice fish that gave him hell for a minute or so.
Ended up being a highly sexual walleye. Almost 27" or so.
Cast a bit more in that spot and it was slow still. So we decided to head to a topwater spot by about 1pm. Got there and cast for a while. Nothing rising, but we have a way with these wiper. Managed to entice two of them to hit our topwater lures and made them pay for it.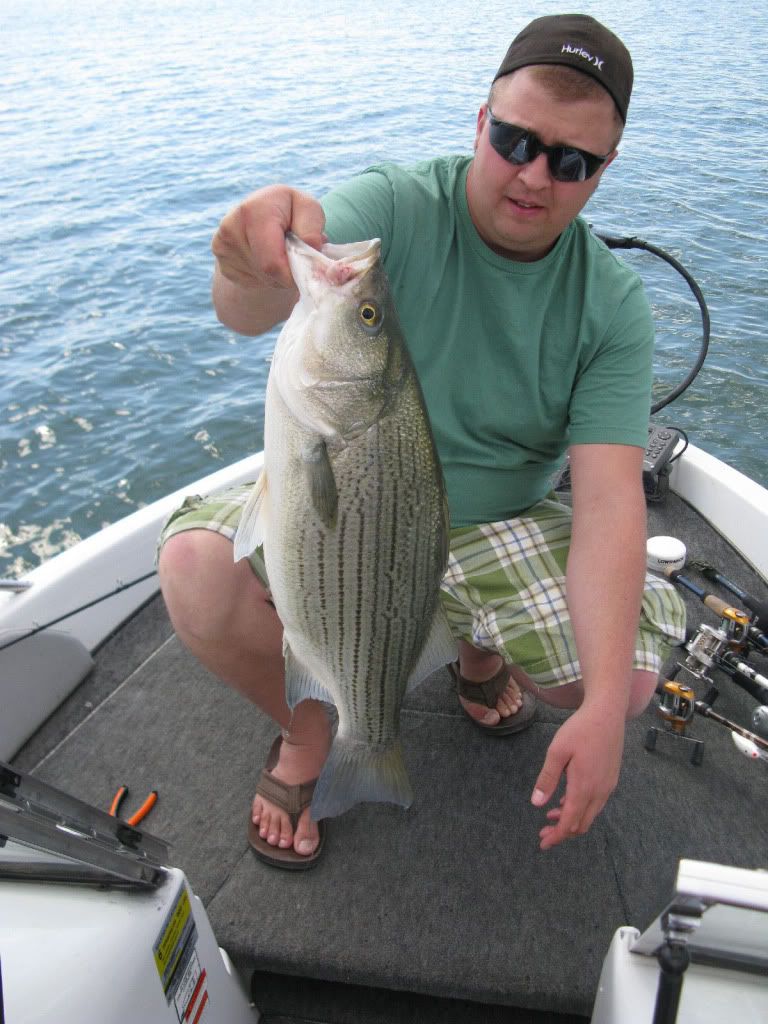 We thought it was going well but then wasted about 45 more minutes casting without a hit. So we left to try a couple more bass spots and only caught a few more dinks. Came back to the topwater spot at about 3:45 and hung out till round 5:30 and it was WAYYYYYY slow. Crazy. We ended up with a few quality fish but had to cast all day for them. Won't be fishing much after this trip since the lake is closed to taking boats out after 6pm on friday :'( :'( :'(