Discussion Starter
·
#1
·
Went to the mountains in search of some natives that I had heard were residing in a little stream. So we (gf, gf's kid & I) loaded up the truck with our gear for a couple day camp trip.
We drove for a couple of hours until we found a nice spot to set camp and did so. Once that was done the search began for this stream.
When we first found it, it was about half this size and my hopes of finding the natives were diminishing quickly. The map only showed one feeder stream to it and we were well above that. I was just thinking we were wasting our time. But we kept on traveling down stream seeing how we hiked about a 3/4 of a mile to this spot over down timber with no trail to follow. The stream had several little feeders, marshy spots that added some extra flow to it, but not much. All those feeders did not add any confidence with me that any fish could survive this little stream come late summer and obviously with our long cold winters freezing it up, but we came to a little pool and the gf's little boy, who just loves the outdoors and fishing and is 5 yrs old, spots a fish in the water. To say the least we were all very excited at this point.
So we continued down stream spotting fish along the way. Pretty easy to spot them with such little water but they were also spawning so that made it even easier to spot. The gf and the boy had never seen fish during this "activity" which made it very exciting for all of us.
I rigged up the 3wt and went on the attack with a dry.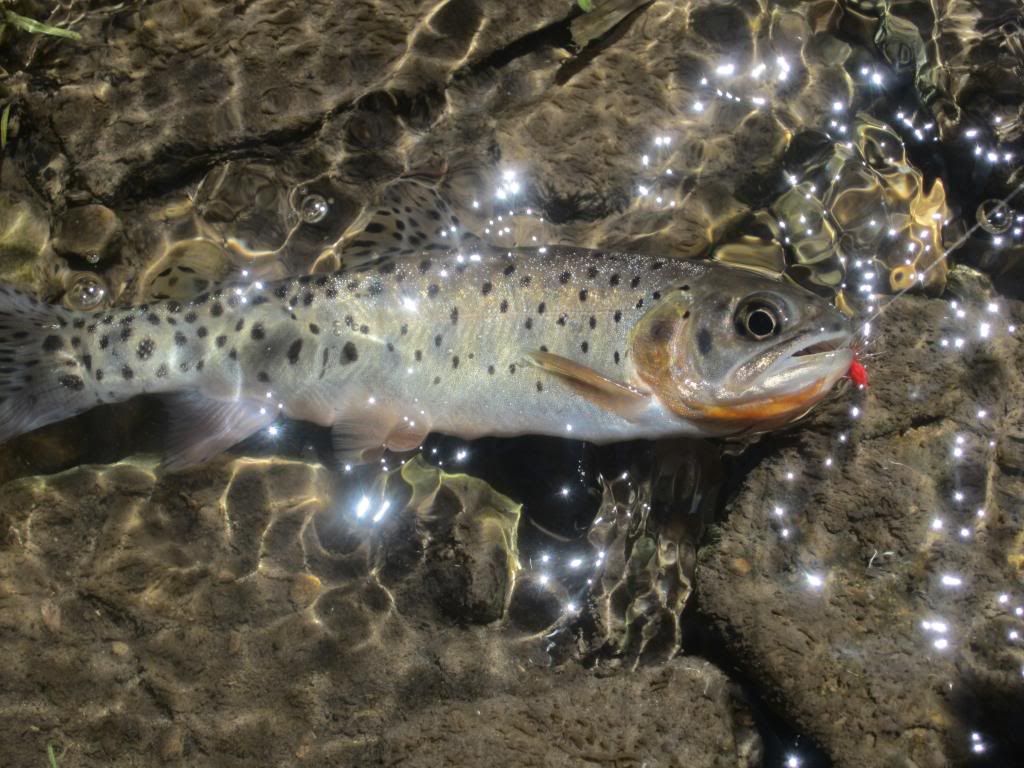 The gf's boy caught this one.( I admit I did the casting but he did the landing)
Which ended up being the trophy for the day! He was so thrilled. His first fish on a dry.
What a great weekend spent in the mountains.
Look forward to the next trip.
Thanks for looking.