I've always had a love affair with Pueblo. I guess it dates back to when as a kid I'd hitch a ride with my brother in law in 71-72 and while he ran an earthmover for dam construction, I'd catch tarantulas and rattlesnakes. And then all through the eighties and nineties I'd take my wife, boys, and friends to the reservoir every week spring through fall. My boys learned how to swim and water ski at the reservoir..as did Yvette. Well, she still can't swim a stroke but she's one heck of a slalom skier. And of course all of the fishing. So many good times were spent there with family and friends.
I've seen the lake mature, watched the walleye fishery grow into an amazing fishery and the years of small skinny bass now turning into brutes. I enjoyed the wiper bounty years and hope to see them return. And of course crappie..well, they come and go as the water levels rise or fall. It's amazing all the stuff you think about when you fish alone.
So, I got up early and arrived at the reservoir at 6:15. I launched the toon and had my limit of walleyes by seven. It was like that all day long. I really love the high water levels. I fished until 5:00 and rode out the wind that whipped up at about 3:45. When that wind came up, I had 22 consecutive casts... a walleye every cast. I'd started counting fish when I'd arrived, but I already had 35 by 8:30 and decided why bother. And the fish never quit biting. It really was an epic day. Even with all of the shorts, I easily could have filled seven or eight limits. Days you live to fish for. Caught a few chunky smallies, a couple bonus crappies that must have thought they were walleyes and two tiny wipers. I also got checked by the ranger when I beached the toon. Nice guy. He said he'd been worried seeing me bobbing out in the waves. Said he'd been watching through his binoculars and the fishing sure looked good. I hadn't been checked there in years.
Well anyway, I left my new phone in the truck. So, just a cooler pic.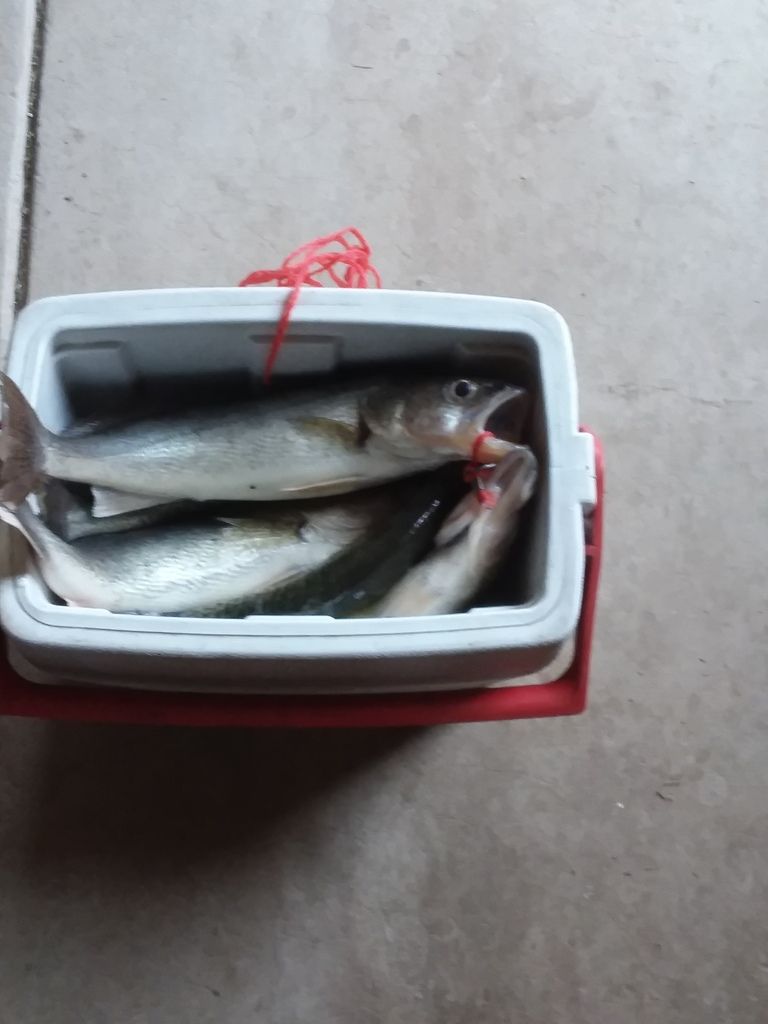 Poor crappie got his tail caught in my motor...Hmmm... how to scale a crappie.