Discussion Starter
·
#1
·
first off, I wanna say F*k this stupid weather. I know I lived in CO off and on for over 26 years, I remember many a snowy april and may and it's part of the package and it's beautiful... but after driving a semi truck for 10 years with an evolving city full of people who can't drive in this ****.. and having to run linehaul for 2 winters in this every weekend in the mountains and wyoming... I'm f*king done with it. coupled with the fact that literally every weekend this spring, where I don't have my kid and I want to drive 200+ miles east to go chase white bass or spawning crappie... it's cold, miserable and snowy/rainy all the way in Nebraska or western kansas. I'm done, I want it to be summer already. I can't wait till next month where I'm going back to florida for my birthday. I'm done bitching now.
after lurking this page too much... I got sick of the cabin fever and just wanted to fish. It made me dump out the crappie/white bass boxes out of the bag and go fish for something that doesn't give a damn about barometric pressure, snowy and cold bullshit. I decided to go drive through the crap and go west to some mountain lakes I never been to before in my life.
it was cold, snowy and windy. I fished 2 places at the first lake that was all open water, lost my lure so I demonstrated my walrus style in retrieving it... Im not gonna lose a 10 dollar j-13 if I can't help it... come hell or stage 1 hypothermia...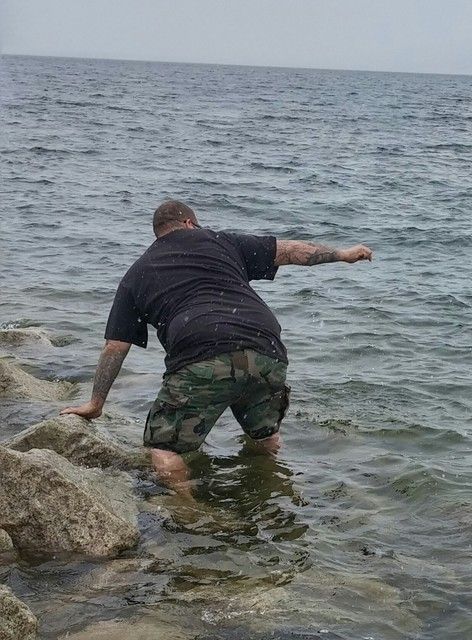 went to another lake I never been to that was nearby... walked around and observed it. fished with big lures hoping the big girls wanted to play... no dice. threw krocs and managed a 16 inch beautiful dink laker.
tied on 2 inch white tubes, tipped them with fresh-dead halved shiners and decided to have fun catching some striper bait. it was a hoot for an hour.. caught 2, lost several others. beautiful fish. all of them are back in the lake to suffer a fate of being masticated by the char beasts that live below. heres some pics to make fordo stoked on life.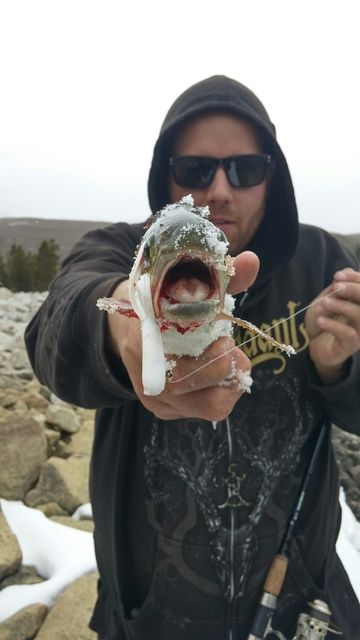 both lakes are beautiful as they proved to be challenging. will be back... stoked to fish new places and expand my palette.... although I shoulda gone to cheese with mike.
thanks for reading and happy beltane, for those in the know...