Discussion Starter
·
#1
·
So it's been weeks since I had a chance to fish, and I finally got a couple off days from work and my partner Terry and I, made it off to Blue Mesa on Wednesday.  We had four perfect days of weather that consisted of crystal clear blue skies and windless days with temps in the seventies.  Our goal was to hunt Lakers in shallow waters, but surface temps hovered at 61 degrees. It took us about a day and a half to figure out which one of the three basins were holding  the greater concentration of fish, and what they were biting on. The magic lure turned out to be chartreuse and pearl Dick Nites during the day, and pink and pearl Dick Nites during the late afternoon and evening. We caught a few fish on other lures, but hands down the Dick Nites were the lure the fish were eagerly taking. We trolled the Dick Nites on down-riggers at depths of 25-35 feet, and tolled lead core line in the same depth range. We caught equal numbers of fish using either method.   
We landed one Brown, one Laker and somewhere between 60 to 70 bows and Kokes; we lost half as many more, to long and short distance releases. 
The Blue Mesa mini-vaca was phenomenal! It may become an annual trip for me. Here are a couple of pics to highlight the trip:
Mr. HookJaw
[img]http://i2.photobucket.com/albums/y12/advancedangling/AnotherTroutBM10.jpg
Nice Bow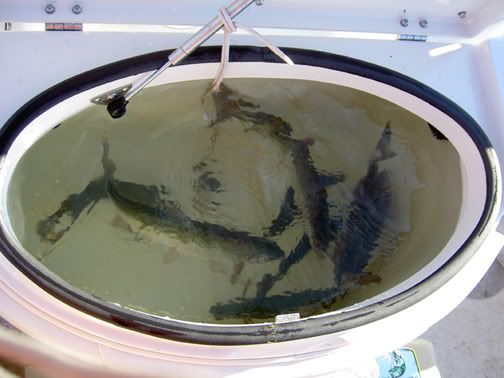 Half Day's Work
Fish for the skillet
[img]
Perfect Weather at Blue Mesa!