Discussion Starter
•
#1
•
Think of it as an 'egg-sucking hairwing coachman' - a hybrid of two patterns that have worked well in the past for the annual kokanee run on the Taylor River. The weight, trigger colors, and hook all seem to work together. This was originally tied on a TMC 5263 (3xl streamer hook) in a size 6. Other hook styles have worked well also, find listed below.
The thing that made this pattern work was the Velvet chenille. Just something about it - can be subbed with other kinds of chenille, but when wet, it just gets this look to it that's hard to beat. The hole we fish is notorious for fast-moving water over the top of the hole, that has the fish holding in the slower moving water underneath. This fly, with a heavy woolly bugger (i.e. like a Chartreuse Mugger, or beadheaded Red-Headed Wobbler) rigged below it seems to work well - heavier flies get down to the fish. Add a few heavy split shot above the top fly to get the rig down in the water column, and either tightline the whole rig or use a good, large indicator - the Thill Ice 'n' Fly special type bobber, oval with bright red and yellow paint, (Charlie has them on the wall in his shop) has worked well in the past - thread it on your line, and slide it all the way up til it's on the connector loop between your floating line and your leader.
(Fishable on a 9' 5wt rod, recommend using short, 0x-1x leaders with 1x-2x tippet - these fish fight like a very large, angry bass, and will test your ability very quickly - if you don't want to keep breaking off and losing fish, and flies, use heavier line. Fair warning.)
Hook:
TMC 5263 (3xl streamer hook), size 6. Can also substitute a TMC 200R (or curved nymph hook of your choice), or Gamakatsu T10-6H salmon/steelhead hook. Use the best hooks your budget will allow.
Thread:
70 or 140 denier UTC in black. Or whatever thread you prefer. The heavier thread ties a little quicker and you use less of it.
Underweight:
30 turns of .025 lead wire. Start about an eye width from the eye and work back. Drop of superglue and then start your thread. Keeps the lead wire from spinning around the hook. Work the thread back and forth on the lead wraps to give it a base - taper the ends a bit.
Body:
black 'woolly bugger' chenille - rayon chenille with some sparkle to it - looks like peacock, much easier to work with.
Tail:
Golden pheasant tippet. Orange is a frequent 'trigger color' for steelies and kokes. Same color as natural salmon eggs.
Wing:
White bucktail. Cut longer, and align tips in hair stacker.
Red 'head':
the 'nose' is Hareline Velvet Chenille in Blood red. 3 or 4 turns.
Whip finish. The part that gets beat up on this fly, well, a little of the wing, and the tail. Rest of materials are quite durable. However, expect to lose a few of these. (Always seems that good salmon rivers have brutal snags in them!)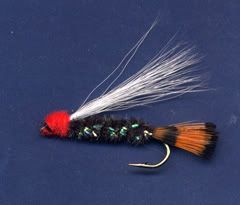 Please post your additions/changes to this pattern. Feedback is definitely encouraged. Any other species you think might go after these?
Nancy