Discussion Starter
·
#1
·
Been a while since I've posted a report, but then again, it's been a while since I've been fishing...
I was invited on a float trip on the Colorado. I had never done a guided trip, never done a float trip, and never fished the Colorado before. Got to check those three things off all at once!
We put in at State Bridge, and floated 8-9 miles. The guide we were with had access to a private take-out, so we were able to stop at Two Bridges for lunch, and float the afternoon as well.
I popped the first fish (a small brown), in the first minute or so of our float. The other guy in my boat didn't have a lot of experience fly fishing, so we pulled into the first large backwater we came across and had a little bit of instruction from the guide.
From then on, I had an absolute BLAST. I had forgotten how much I like fly fishing. The day was full of hookups on 13-17 inch browns that were strong and feisty. I got pictures with 3, and had another 3 or 4 that I didn't. Had multiple fish that came off, part of the game I guess.
Also landed a few shorter fish, including a small rainbow. The other guy in the boat landed a nice 14 or 15 inch rainbow with beautiful colors.
Pictures: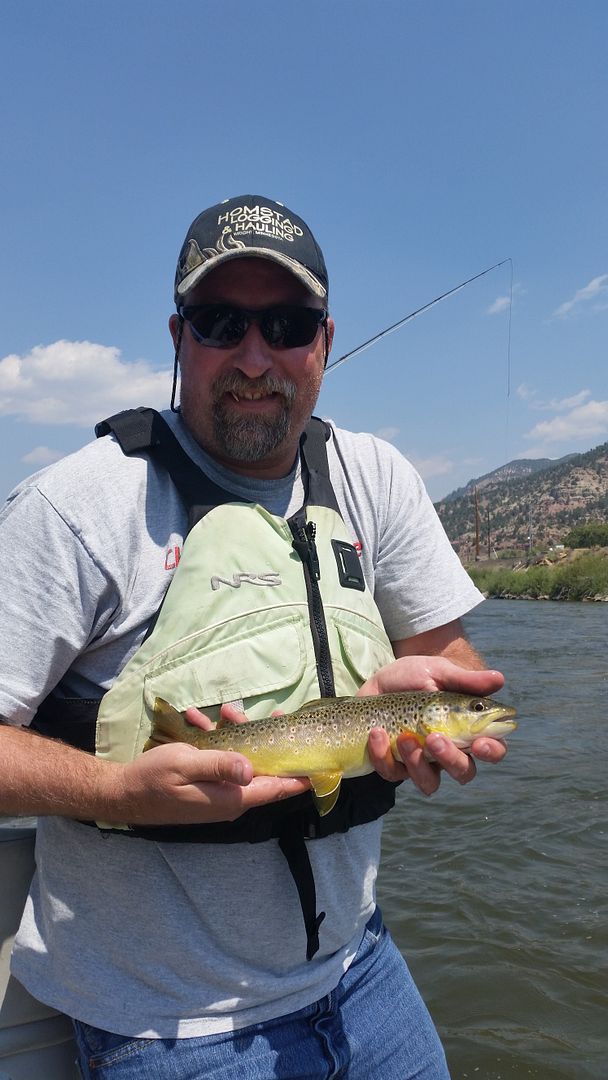 Setup was about what I expected with a hopper up top, followed by a beadhead soft hackle hares ear, and a beadhead zebra midge as the point fly.
Most of the good fish were taken on the zebra midge, although there was some action on the hopper later in the day.
So much fun... I'll be doing this more often!