Discussion Starter
•
#1
•
Well for about the last week, Oyey, Boondock, and I have had plans to hit the res for a night near the full moon for some eyes. We were gonna go on Thurs but Jason's kid was sick and he couldn't get out. So we decided on Saturday night.
I took off and went to Jason's house and hooked up his boat at 5:45pm. Kurt met me there and we put the boat in the water just in time for the ramp closure. Jason was to meet us out there at about 7pm. We took off from the marina to hit a couple spots and the first thing I noticed was that his boat had less than a quarter tank of gas. I didn't know how big his tank was, so I figured I would wait to ask him about it.
Kurt and I hit a few spots and it was very dead until we got the text from Jason to meet him at the dock. We went back to the NSmarina and picked him up and he said we should go get gas if possible. Turns out, we couldn't. The marina was closed. So Jason said screw it because his battery was strong and we had a favorable wind to get back to the marina if needed.
Weather was about 40 degrees when we started and progressively got down to about 23 by the end of the night.
So we took off and fished for a bit with jerkbaits. Jason was the first to hook up with a typical sized eye.
It was still slow for a while after that until we changed spots around 9pm. We got to the spot and used the trolling motor for the rest of the night. The gas tank showed almost empty. We changed up our tactics a bit and threw a few different lures and it paid off. We started catching one after another. We started to celebrate by whipping out the
n
(appropriately enough with a bright moon above us).
The next fish caught was on my BPS minnow and it turned out to be my personal best at 26". We released the beautiful girl after some pics and revival.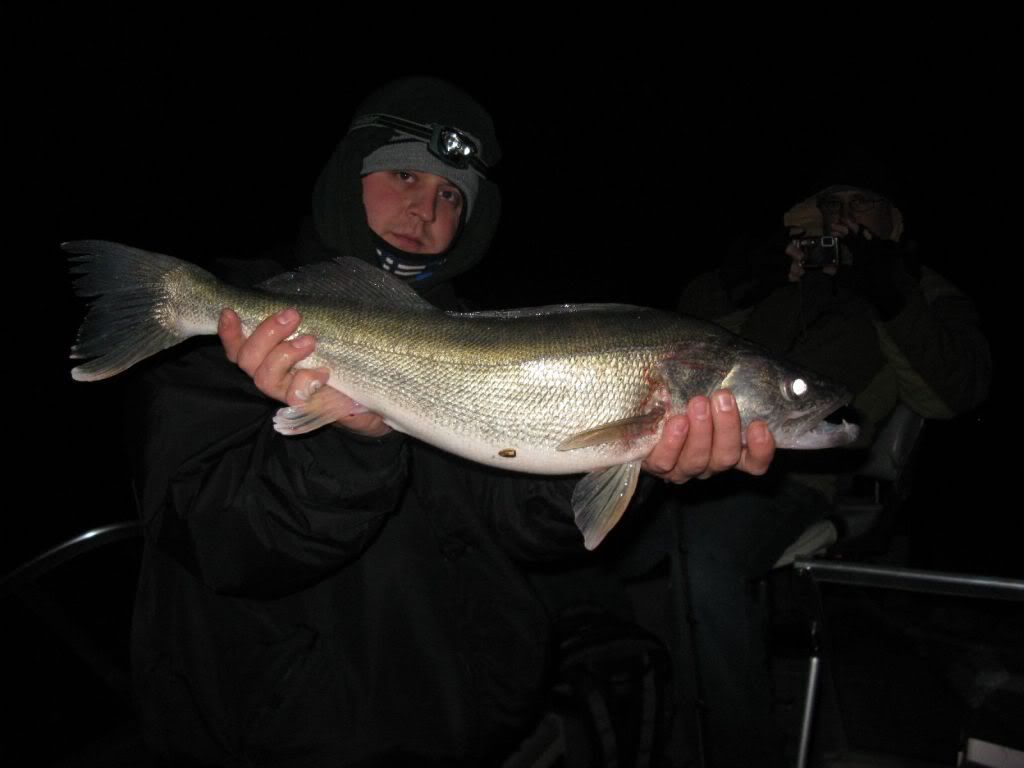 We caught probably 25-30 fish after that I would say. Hard to remember and I was a bit tipsy. Most were 15-17" but we did end up keeping 3 or 4 keepers around 18-20".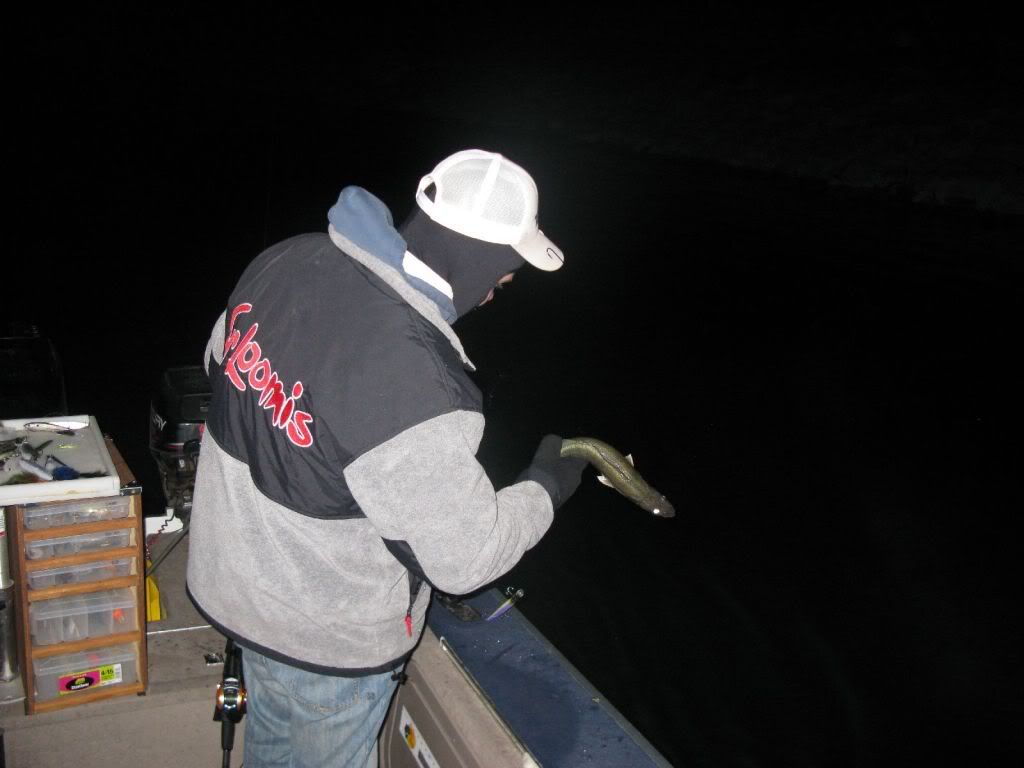 One chilly walleye ninja.
Even had a double or two.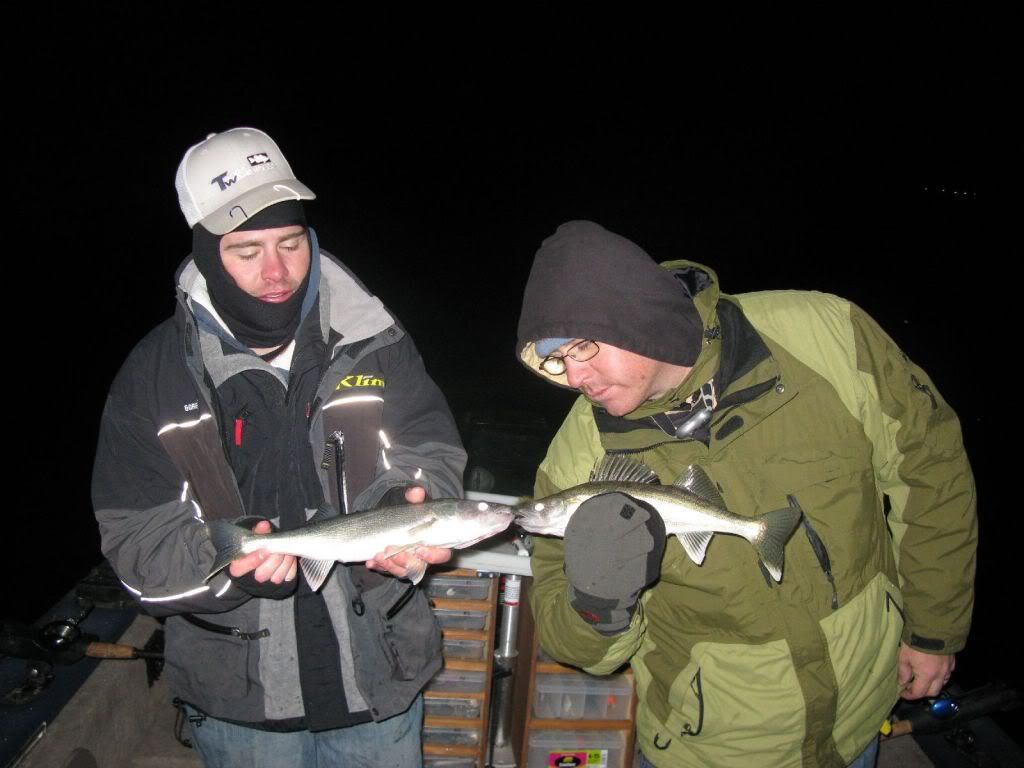 Once about 1130pm rolled around, it started to get really cold. Everything started to freeze, including our guides.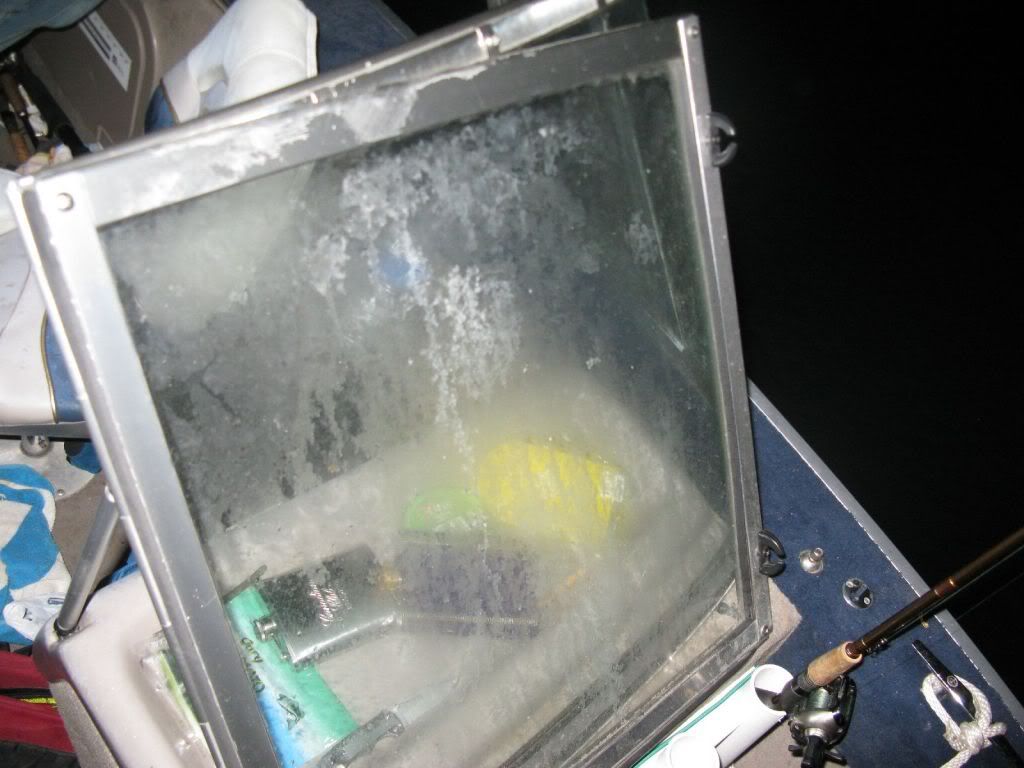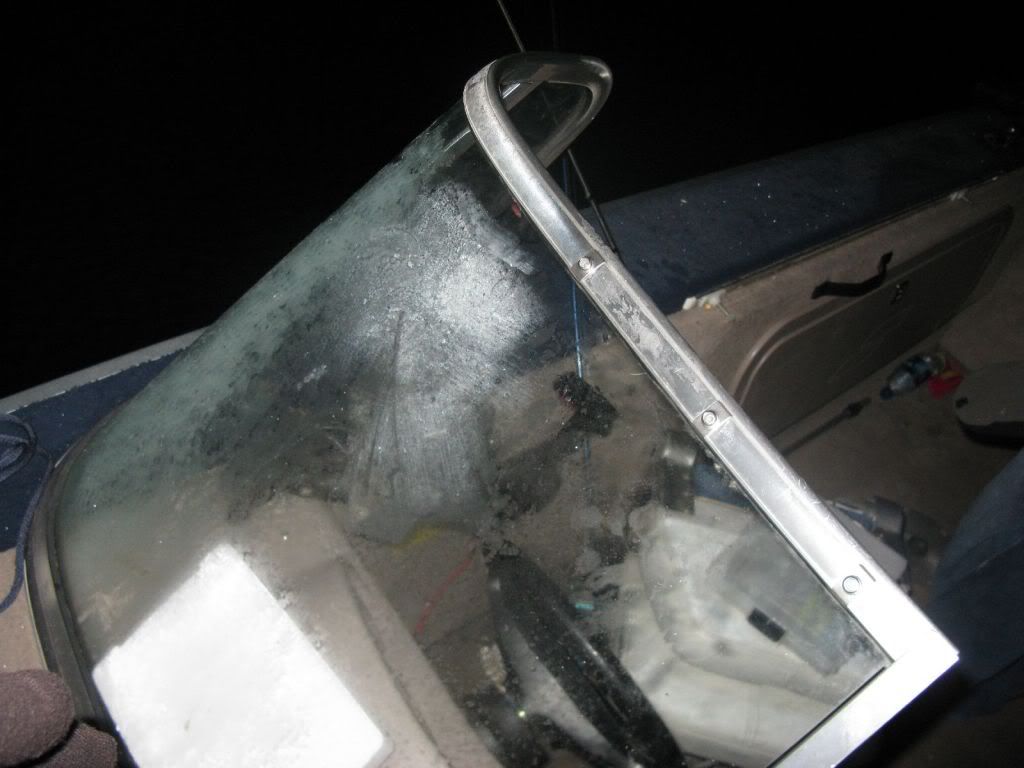 So we decided to call it a night when the fish stopped biting around midnight. Now was the time to see if we could make it back to the marina to park the boat. Hopefully we had enough gas. We took off and..................sure enough....we ran out of gas about halfway to the marina.
NOW! We had a favorable wind at our backs to help us get to the marina and we were going at a decent speed for about 5 minutes when.......out of no where....everything started to get warmer....and breezier....sigh. A beast west wind picked up and slammed straight into us. Felt great as it was about 20 degrees or so warmer than the air temp 5 minutes ago. I can't believe how quick it happened. INSANE. We knew we were in trouble as we were in the middle of the lake and nobody was out there. The wind kept getting worse and the waves kept getting higher. Jason was struggling to take us to the north shore and we started taking out the life jackets. At this point, I decided a video was in order and Kurt was nice enough to eloquently state our predicament.
http://www.youtube.com/watch?v=hLHT3bHqnmo
Another Vid of how windy it was getting
http://www.youtube.com/watch?v=hqN4SAk49Jk
We managed to make it to shore and we could go no further. We called a few people and ended up beaching the boat and meeting Jason's dad about 40 minutes later with a little gas tank for us. Crazy night. We put the gas in and motored back to the marina. Got out of there around 1:45am. A bit scary....but a mass adventure! A successful vampire moon walleye trip with only one minor hitch hahahahah.