Discussion Starter
•
#1
•
When:
11-13-2010/6:30am til 2:00ish
Where:
A fresh water pond nearby
Conditions:
Extremely freakin' cold, to tolerable cold, to light snowfall. Mostly breezy, partly cloudy
Water Conditions:
Clear, slightly choppy, 46.4-47.7 degrees
Tactics:
Blade baits, Jearkbaits, Crankbaits, Jigs, Lindy Rig with a crawler, Dropshot...the kitchen sink.
Results:
Small scale success...
So the other night, I was searching through old fishing reports of mine and the homie Fre$sh, to see what we had done around this time last year. While trying to find reports, I noticed I hadn't posted much in quite awhile..then I looked at my Off Topics post. :
Suffice it to say, I either need to get a life, or start sharing my fishing life a bit more with the group.
It's been a tough few weeks for me, and this week in particular has been brutal. I fished 4 out of 5 nights this past week, with little to show for it. One 16" saugeye.
I was very much looking forward to this weekend, cuz I knew it couldn't stay this terrible for me ALL week....
We were on the water today at 6:45. The temp was 26 degrees!
We started with jerk baits, and within the first ten minutes, I had a very nice LMB follow me to the boat. I couldn't get it to commit...wish I could have, it would have been one of my best for sure. After working our first spot hard for about 1.5 hours, we decided to move to another spot. We started jigging in 25 FOT. We didn't get into anything until we went down (up?) to 16 FOT. Our First walleye came to the boat on a 1/4oz jig with a 3" Trigger X grub. Thinkin' we had a pattern, we worked that area hard with no success. We moved to another spot on the lake where the depth dropped quickly off of a wide, shallow flat. In about 33 FOT, we picked up a nice rainbow on a deep diving Xrap.
Not looking for trout, we decide to follow the shoreline, casting into about 8 FOT that dropped down to about 16, and on a point. That's where we got into some eyes. All came on the same presentation, deep diving Xrap in perch. We brought 8 to the boat in that spot. We had quite a few follow all the way up to the boat, and also missed some short strikes. 1 keeper came out of that 8. It was right at 18" but very thick! We did bring a trout to the boat there as well. It came on a blade bait.
After switching spots again, we bring two more eyes to the boat, both on the Xrap.
Closing out the day near where we started, we threw a few cranks, and plastics. No success with either. We switched back to the Xrap and blade bait, and got another eye and another Bow, respectively.
The weather started to turn so we decided to call it a day. The total for the day was: 11 eyes, and 5 trout. No perch or bass today....
Here are the two keeper eyes from today.
Here's a pic of the one from earlier this week.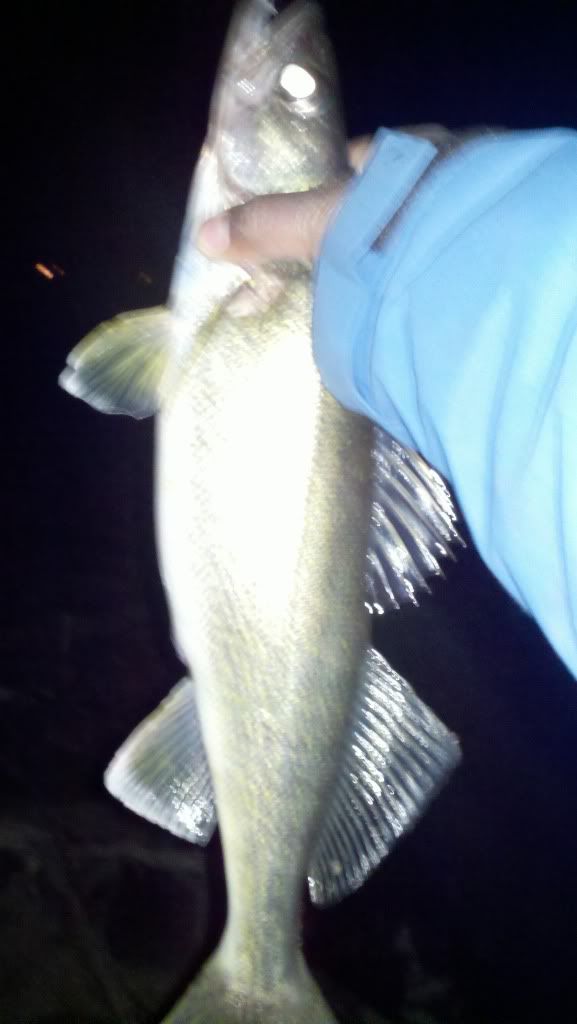 Thanks for reading.
Good luck out there, the water is cooling fast now...get some before the lame ice sets in!
Peace!