Discussion Starter
•
#1
•
This is the fourth annual tourney and is put on by the local steel workers union. The turn out was pretty good and the after party was awesome. They had pizza at pizza madness in westcliff as well as a bunch of raffle gifts. They gave away two avalanche tickets, two nuggets tickets, an ice hut and a gas auger to name a few! Now to the fishing. Awesome with an entry fee of only $20!
I worked Friday night so I had my partner pick me up at the house Saturday morning at 5:00. The tourney starts at 6:30 and we were running late. We get to the lake at 7:00 and head to the spot that I had checked out a couple weeks before. I immediately hook up with a fish only to come unbuttoned at the hole, I miss another couple hits and the bite turns off. We shoot the bull for a while waiting for the fish to come back through but it never happened! We get ready to move but I new the fish were there. I start popping holes about 10-15 yds away looking for a little deeper water, as we were fishing in 6 fow. I found 10 fow and the vex lights up! I iced three fish before my buddy even popped any holes! That turned out to be the money hole. We had people coming by asking how we were doing and seen we had fish on the ice. Not many people caught fish, in fact many people got the skunk! There were a couple big fish landed, one 3lb bow and the big fish winner a 4.9lb bow! Dow said they didn't think there were any fish that big in there!
I iced about 17 and my buddy iced about 12 with one fish at 2# 3 ounces. They had an individual one fish payout first second and third, and a team payout first second and third. Me and my partner won that sucka with a four fish bag of 5# 9oz for a first place payout of $500 to split! Wooohoooo!
At one point I stuck an ice jig through my finger and stuck it in the snow to numb it so I can pull it out. In the meen time I hooked up three fish that my buddy had to come and reel in for me! Haha! I only got a few pics, and here is the big fish of the tourney!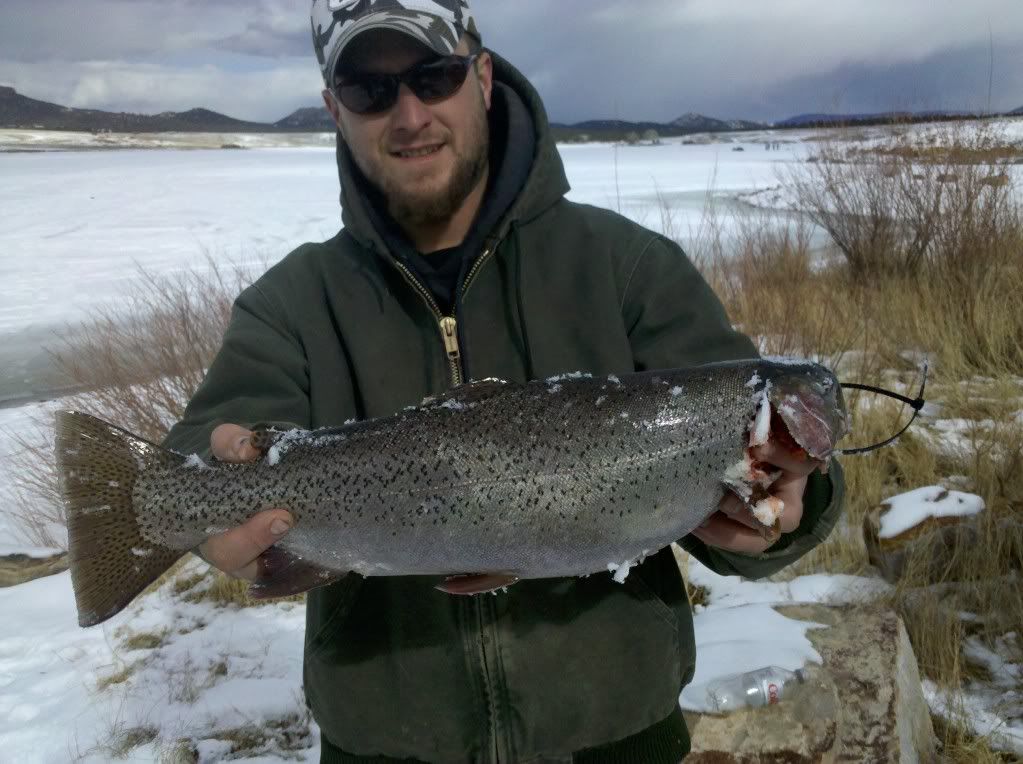 It hurt a little
The loot and hardware!