its a hydra cuz it's many heads. get it? lol.
got up at 10, got on the road at 11... got blown all over the highway because of the nasty winds on the mountain. drove over loveland pass, in a massive ground blizzard that would make Abbath proud because the GF has never been over the pass before. decided to stop and take pics of some of the lakes i drove by because Nobody wants to talk about them on both sites. well here you go.. I spent 20 bucks in gas driving 250 miles for you to answer questions you may have, because I love you and we live in a beautiful state with pretty mountains and ****. yeah I know my driver side window has a glob of birdshit on it, pardon it.
I didn't go to granby today because rain/snow with 40 mph winds and I'm not going to torture my child and girlfriend with fishing masochism... but we did stop and try a spot or 2.
first spot we came across was the Trout juggalo's home lake... Dillon. snake river was starting to open up and had a bit of fishable water.. if you needed suckers for laker bait.. or are a rookie looking to catch some stocker trout. saw a few jumping up in the open water area. The rest of the lake was capped tight with a few soft spots along shore. if you're looking for safe ice to drill because you want to try your hand at char in mid spring... look no further. I'm sure the resident guide who posts on this forum will be more than happy to help you out with that for a fee and a healthy tip.
we got some monster rehabs and cookies from kum n' go... and drove northwest towards ute pass, where we took pretty pictures of the sawtooths looking like something out of an immortal video... and drove over to another lake I was curious about... williams fork.
we stopped at a known spot, parked and took pictures of the lake. ice is coming off quickly and was opening up a great deal for the hour and a half we fished.. lake will be completely open probably by tuesday. Saw a few dudes in kayaks trolling along the ice sheet by pike flats trying to pick off some hungry eaters. went and fished an infamous area... had follows from the stockers cruising the shoreline throwing metal and tubes in white and crawdad (they just stocked the lake with eater rainbows) but didnt manage anything... had to leave early because kiddo had an accident.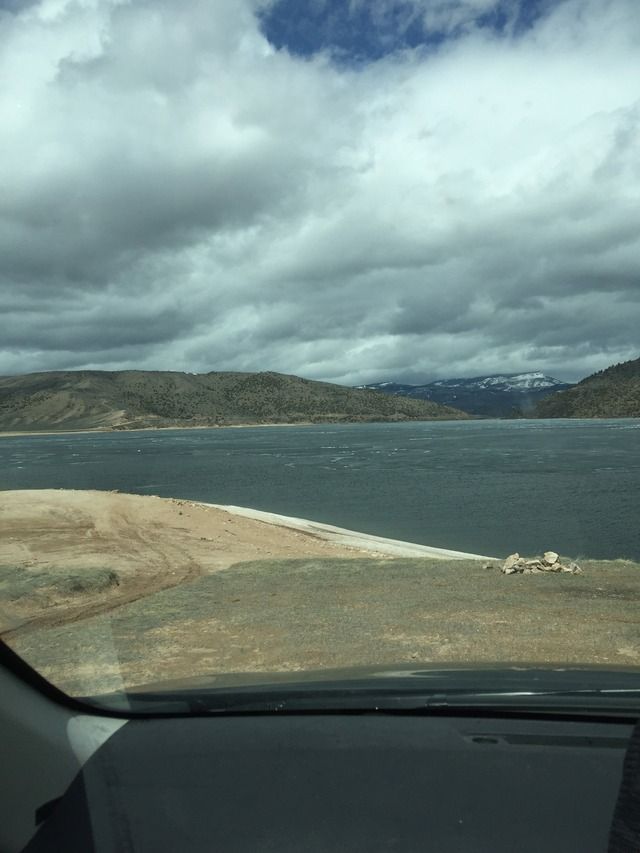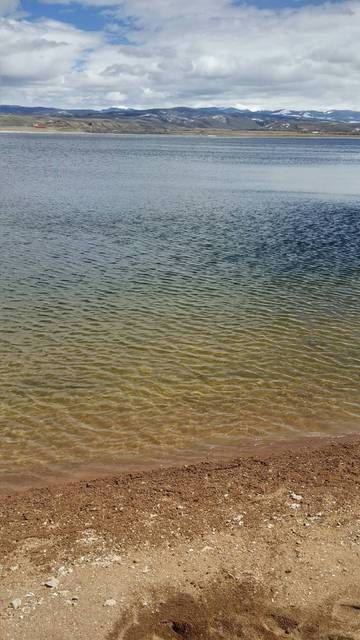 "daddy where's the fish at?"
"in the lake, son".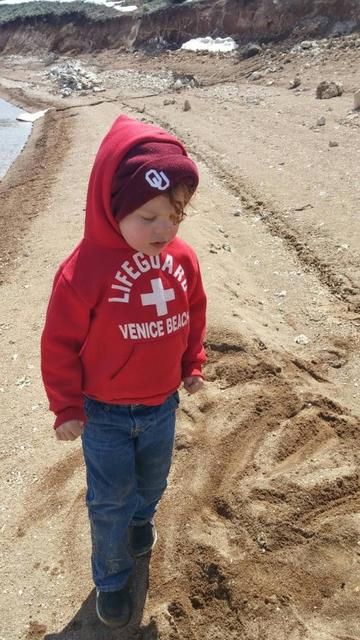 drove to kremmling to dollar general to get my kid really ugly shorts and then headed to Wolford. didn't stop to fish the lake but drove by the dike. lake is 100% wide open, and murky AF. figured my spot would be crappy since i've never done good at the lake when the water is chocolate milk... so I turned around and headed over to Green mountain reservoir.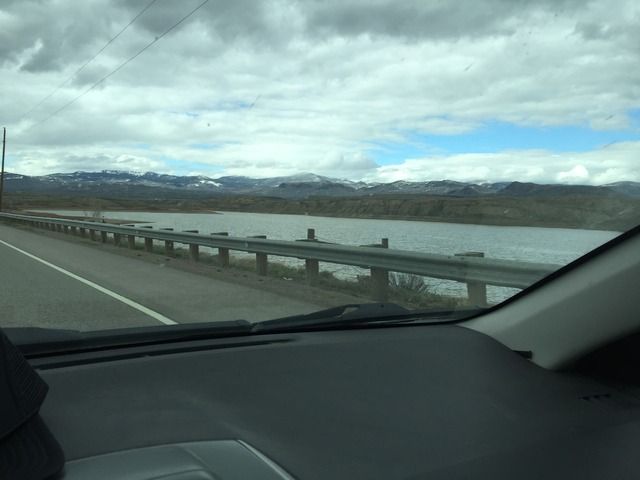 The construction going over from the new road to the heeney intersection sucks ass. we turned right and went over the hill to GM. saw lots of rotten ice and fishable open water by dropoffs. Large portion of the Dam area was open water. lake was really low, but with runoff soon i'm sure itll fill up completely and then some. saw one guy fishing cataract inlet which was pretty far out. road going up to cataract lake was completely dry although I didn't drive up it.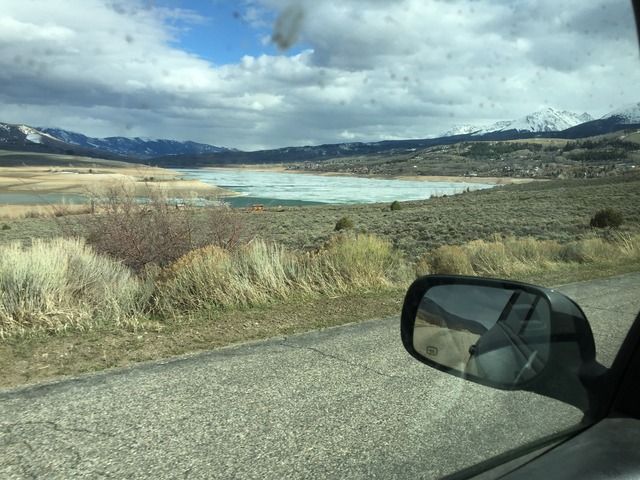 the inlet was wide open and i saw one guy trying his luck...
my guess is that the lake will be open completely around the same time as williams fork. ice was dying a quick death on the lake.
we kept driving up to silverthorne, the ice skating pond by the school was opening up quickly too. kept going up the hill over the eisenhower until we reached Georgetown lake.
Georgetown lake was all open water, was very, very windy. both members of my fishing party only lasted 5 minutes in it. i soldiered on until I managed to kill my skunk on this massive steelhead throwing thomas buoyants. i thanked him for being part of the efforts and praised his superiority over undesirable warmwater species in colorado, that needed to be exterminated.. before returning him safely to the water.
we drove 200 yards to another spot that I called the "skunk-killer". we threw small hooks with nightcrawlers and split shots in the current... and managed to kill the skunk with these beautiful pond-run steelheads that we released.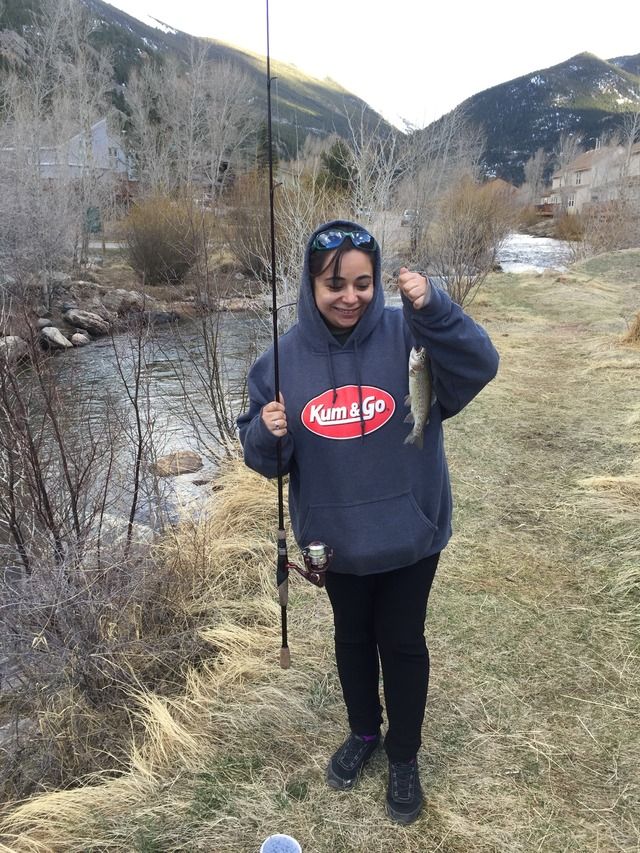 my son was stoked seeing the fish and hanging out.. although he didn't do much fishing.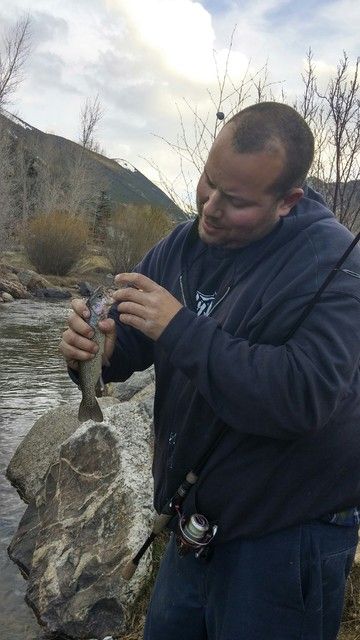 soon after, a rare thing happened.... a ranger crept up on us and checked our licenses. we had a nice long talk, after i thanked him for checking us. he told me he lived in the area by where we fished at, and tries to check as many people as possible. he said the CPW is going to be training the georgetown and clear creek county cops on checking people's licenses for fishing. We also talked about another issue which i'll make another thread on... an issue that is pretty infamous in that stretch of clear creek in the fall. made me feel positive for once although I have my reservations.
we left soon after and went home.
cliffnotes, probably by next weekend you'll be able to boat most of your favorite not-so-far haunts right off I-70 except for the char hole.
I was gonna go east next weekend but with the **** weather predicted for the weekend (they are saying possible snow in denver on my weather app, on saturday) probably gonna go west. stagecoach to bust that cherry for that lake.. or leadville maybe for some last ice? thanks for reading.