Discussion Starter
·
#1
·
First report of the year! My resolution is never to get skunked on a fishing trip again, but I should break that in a couple weeks...
I was thinking that there were probably some of you ice fishing above me, that thought amused me for a few minutes, heheh.
Anyway, since my dad went a few days ago, I was jealous, so we wnt again today. We parked at the alst lot before the dam, two other cars there, temperature a balmy (at least for that place) 29 degrees at 8:00 AM. Got in the water and there were salmon all over!! WEll, it wasn't Alaska, but you get what I mean. They should be dead by now, which was why I thought it was weird, but most of them were turning a dark blue and getting white patches and stuff on them, because they are almost dead. There are still a few bright red ones, but not many.
To the fishing.
I was using a pink egg pattern and a black beauty. My dad was using a chartruese san juan with some small midge as a dropper. The salmon were not biting at all, and I didn't see too many trout. My dad and I each landed one trout, mine on the egg pattern, his on his san juan.
All in all a good day, and it is beautiful up there. He wasn't closae enough when he caught it for me to get a pic of his, but here is mine and a few shots of the dam and some open water to show you that there is no ice up by the dam.
Pretty lil guy.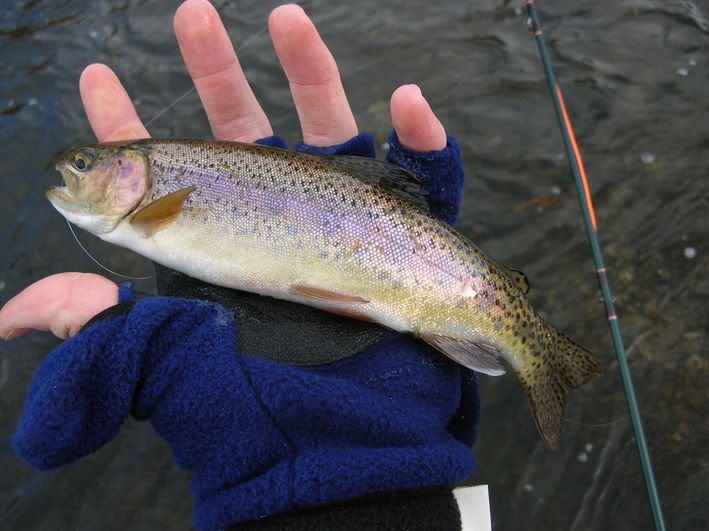 Dam, they are doing some construction on it, so you can't get too close.
Open water, deep pools, january...what more could you ask for...besides bigger fish.