Discussion Starter
•
#1
•
Thanks to a busy schedule of guiding for many years I haven't made the time to go hunt deer since before they went limited draw. At the behest of my good friends DBM and Mad Catter I applied for a unit on the west slope with my best hunting buddy Justin. I called in a bull for Jason Duncan during 1st season and to repay the favor he took the time off work to tag along and help as he could during this deer hunt. Opening day we looked hard in all the areas we knew but turned up less than a dozen deer. We did however pass up the chance to put a stalk on two separate 4-point bucks in the 20-24" range.......after all it was the first day. Day two we headed out in search of greener pastures and shortly after daylight we were seeing deer and lots of them. We didn't find any that we wanted to shoot but we looked at well over 100 deer that included around 25-30 bucks from little forkies to a real tall & heavy 25" 3x4. We did see a bigger buck in the 29" range but discovered he was on the wrong side of the fence so we just watched him walk away. It was a great day and we hit the sack on night 2 with high hopes for today.(friday) The third morning found us in position at first light glassing the hillsides. Even before good shooting light we were already seeing elk and deer but no bucks. That changed within the first half hour of good light as I spotted a buck about 800 yards away that was definitely a "shooter". Justin and I both stalked him but split up on separate ridges and I was priveledged to watch my good friend take his personal best muley.....great shooting. Turned out to be a very heavy bodied old buck with multiple splits in his ears from fighting. One of the biggest bodied bucks I have seen on the ground for a long time. He was really rutted up and chasing the does hard. 27" 4x5 plus eyeguards
By the time we got him out of where he was at and loaded on top of the 4runner(didn't want him inside a black vehicle on a sunny day while we were hunting) it was around 11am. We headed off in search of a buck for me. We looked at a bunch more deer through the binos and spotting scope including an awesome old buck that was a solid 7pt on his left antler but we chose to pass on him as he was all busted up on the right antler. He was chasing does hard so we just let him do his thing. Bumped into a kid that wanted to kill just a "nice" 4x4 and we happened to know where one was so we helped him get on it and he made a great 90 yard shot with his .30-30 and put the buck down. We helped him load it up and take pictures and then continued off in search of a buck for me. about 2:45pm we headed around a hill to check an area we had seen some decent bucks the night before and on the way we ran into a good buck and I was able to take him. A beautiful typical that stretches the tape to 31" wide......my widest buck to date. It was insane! I couldn't be more thrilled with how the hunt turned out. Here he is....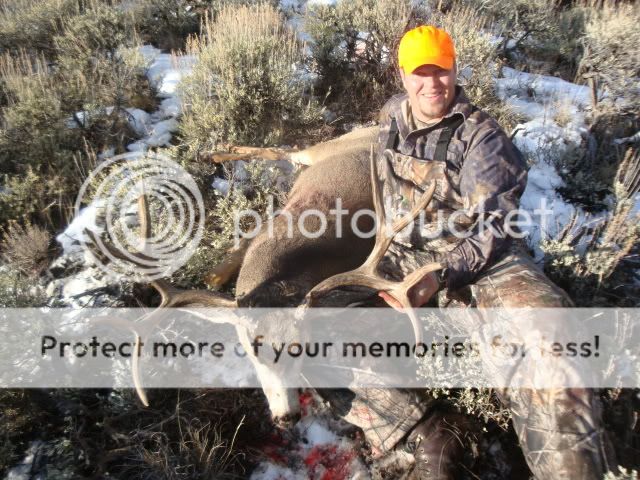 Great friends with a really nice buck....
My buddy Justin showing off the first view I had of this buck..
My little 4runner loaded up for the ride out to the main road....complete with my hunting crew.....
An epic day....can't think of how it could have been more perfect. Thanks to all of those who helped along the way......nice to have karma come back around for a visit.