Second time fly fishing and caught my first trout (and a couple more)! Went to South Boulder Creek yesterday morning with a buddy who is an experienced fly fisherman. Me? It was my second time on the water.
The river was at 66 cfs which was concerning as when we went two weeks ago the fishing report said 14 cfs and it was perfect. It was higher than we wanted and in some of the tighter canyon spots the water was impassable and downright terrible but with some good bushwhacking and at times, rock scaling, we were able to get to some nice and slow spots that were filled with pool after pool of good water. To say we got a workout on the miles we hiked yesterday would be an understatement. It was no walk in the park getting into where we were.
We started with San Juan worms and my buddy was getting fish like crazy. Finally I got on a nice fresh hole and bam, the trout took it. It was awesome. Brought him in and let him go. My fly fishing cherry had been popped. He was maybe 7 inches. About 3 minutes later I got another fresh hole and pulled this guy out and snapped a picture: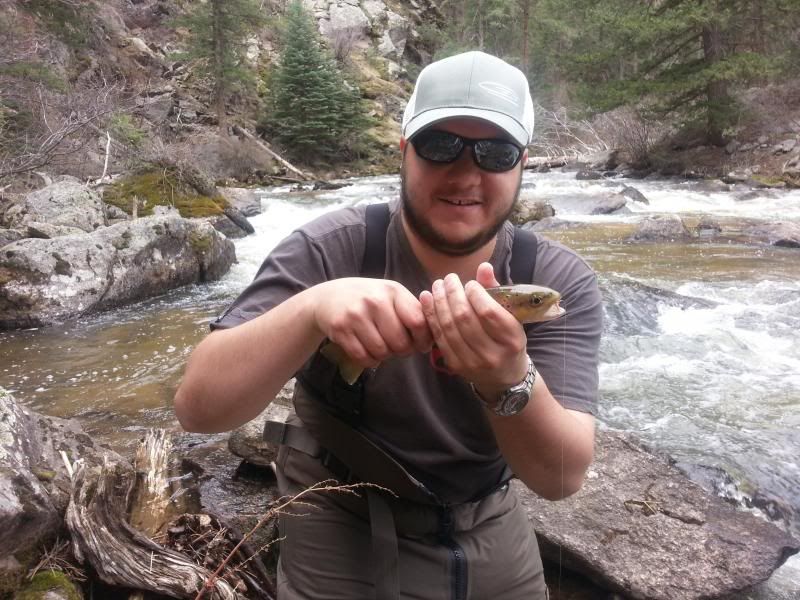 Not huge but I can honestly say that for me at this point in time size does not matter, I am hooked on this sport.
What happened next I am probably more proud of than anything. The fish stopped hitting the worm after that fish. Neither I or my buddy had so much as a hit for the next two hours when I decided to kick over a rock. Saw some tiny midge and very tiny stonefly/mayfly looking things and then saw some much bigger bugs that resembled scuds. Not sure what they were but I took a green scud my buddy had given me (he uses them on the miracle mile every year) put it on and BAM had two fish on in quick succession. Also had a ton of bites but at that point we were worn out and headed down. So not only did I catch my first trout but I matched the hatch. Even my buddy was impressed.
I could not be happier than I was yesterday. We did take an oddball way into South Boulder Creek that got us away from everyone. Seriously not a single person on the water until we turned back and made our way out. It was a lot of hiking and bushwhacking but it was totally worth it. Great work out too. Holy cow that last mile was killer.
Anyway, anyone know what those bugs were? They really resembled a scud in the way that they were curved and had the shell almost like an extended rolly pollie but they seemed more bug like than shrimp like. My buddy has been doing some research and is stumped on what they were. Any ideas? I think the thing that mattered was that the green scud pattern seemed to imitate them well and they were obviously something the trout like as they started hitting immediately when we switched to them but it would be nice to know what they were.
Fantastic day. I will be a fly fisherman for life now no doubt.