Work has been brutal since the start of the year. After putting in 67 hours Sun-Thurs last week (not exaggerating), the boss was "generous" enough to let me take off at noon on Friday. I took advantage, grabbed my youngest early from daycare and hit a local park.
I surprised him by showing up early and taking him for some "Daddy Time" without his brother and sisters.
We got to the park and I realized I only had my ice fishing gear in the tackle bag... DOH! The park is not known for and I wasn't even sure if it had trout in it. We made due with some Kastys.
15 minutes in I was messing around on the dock, vertical jigging a chrome/orange Kasty and landed this healthy 2-3 lb LMB.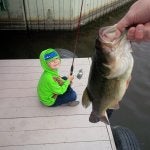 Fished for another 30 minutes before the playground was calling my boy. Since it was his special afternoon I told him, "One more cast." After 15 minutes I hear, "Daddy, you said one more cast but you did a lot more than that!" To the playground we went.
Saturday we returned to the park to let the kids play on the playground while dad fished. I fished from 845-Noon. I threw a squarebill crankbait in shad color, a black and blue jig and pig, a wacky rigged senko in watermelon flake with a Gamakatsu weedless wacky hook, the chrome/orange Kasty and a soft plastic shad on a dropshot rig with NO LUCK!
The only action I had was with the senko. I was twitching it in and about 5 feet in front of me a little 1 lber came up almost to the surface and turned around at the last minute. Couldn't convince him again after that.
Went to a "secret spot" I recently learned about and finally saw signs of life. Just walking to shore I spooked a 2 lber out of the weeds. I threw the squarebill and the jig and pig with no luck. Lost the jig and pig just feet from shore but it was about 4 feet deep so I didn't go in after it. The senko got one bite but by the time I saw my line dart to the right I missed the hook set.
Decided I'd resort to being an unskilled baitdunker with the spare rod and threw a nightcrawler out there but still nothing. I even saw a pitch black panfish of some sort hanging out in some underwater branches, dangled a nightcrawler in front of him, even bounced the crawler all over him and he didn't want anything to do with it. Thought he might be dead until he lazily swam off after my repeated annoyance!
Sunday I went to my local honey hole to redeem the Saturday skunk. To my surprise/dismay the water was 4 feet low and only 6-12" of visibility in my little neighborhood pond. Fished from 945-1230.
Threw my other new jig and pig around the whole pond with no luck. I was throwing into a downed tree when my line got wrapped around a branch just above the water. I wasn't about to lose my second jig I just bought Friday. I grabbed the hip waders and went nuts deep to retrieve jig! As an added bonus I got someone else's crawdad jig that was tangled up in the branches. Spooked a turtle sunbathing on the tree and pretty sure I spooked some fish out of the underwater structure as there was quite a bit of movement I could feel on my legs!
Met a good buddy at El Tacos de Mexico for lunch and had some good grub! First time there, food was pretty good and reasonably priced. I actually found out about that place from some thread on this site proclaiming it the best Mexican food in Denver. I don't know about the best but it was good.
Since I'm a sucker for punishment, after lunch I went back to the pond to fish from 230-330.
Threw the Kasty but after a few casts and being used to throwing the baitcaster all weekend, I tried to cast but forgot to open the bail and sailed the Kasty half way across the pond. Dang this isn't my weekend! Tried tying on my gold Kasty but without a swivel on the end the knot always snaps when I snug it up. I only have 4 lb test... does anyone else have that problem? I tried tying to the ring and directly onto the Kasty, snapped three knots before saying screw it.
Resorted to baitdunking again and on the fourth or fifth cast the hook got hungup on a rock just a few feet from shore. I snapped the line off, sat on a rock, watched the water for the next 20 minutes and admitted defeat!
All in all it was a good weekend and a great stress relief.
Oh and the title of my report... well that's because I woke up Sunday morning with a sore lower back and aching shoulders like I had been lifting weights all weekend!
If you've made it this far, thanks for reading!
I'd also like to thank an unnamed member on here for giving me some ideas on where to fish this weekend!