Discussion Starter
·
#1
·
Well, I went up to Georgetown after school today. I have been craving to try my new auger and stuff, so my buddy and I got up to the lake around 2:00. The smaller (west) side is completely frozen, but there is open water on the other side around the bridge. We carefully made our way out to the middle of the lake, and I drilled 3 holes in about 5 minutes with my hand auger. We had a good 6" of ice, so it wasn't scary. The ice is very slick without snow cover.
It was frigid, and the wind was howlin'. We got some flurries, but no real snow. I didn't see any old holes at all. One person was fishing the open water, but he didn't get anything.
FISHING:
We rigged one rod with an orange swedish pimple tipped with a nightcrawler, one with a silver and blue kasty tipped with a salmon egg, and the third with a drop shot sinker and some salmon eggs about a foot about the sinker.
I caught three fish on the salmon egss, my friend missed one on the kasty, and the swedish pimple got one bite all day. It was awesome to get my first fish (besides some at a boy scout lake a few years ago) through the ice. The fish wanted salmon eggs a few feet off the bottom. I missed several more than I caught, but I was just learning. All the fish were small, but I can't complain about 3 fish in less than 2 hours my first time on the ice this year.
Here are the pictures.
First fish. Friend turned 18, so we had to have some stogies.
Mean muggin the 2nd fish.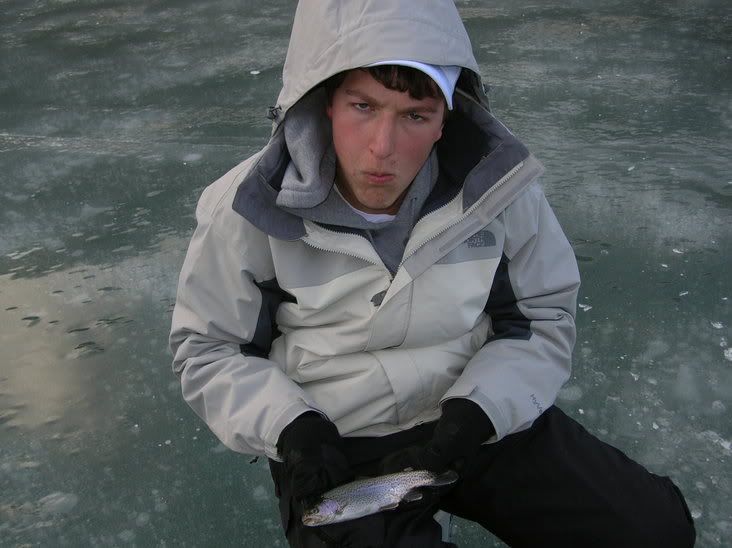 BRRRR it's freezing... 3rd and final fish.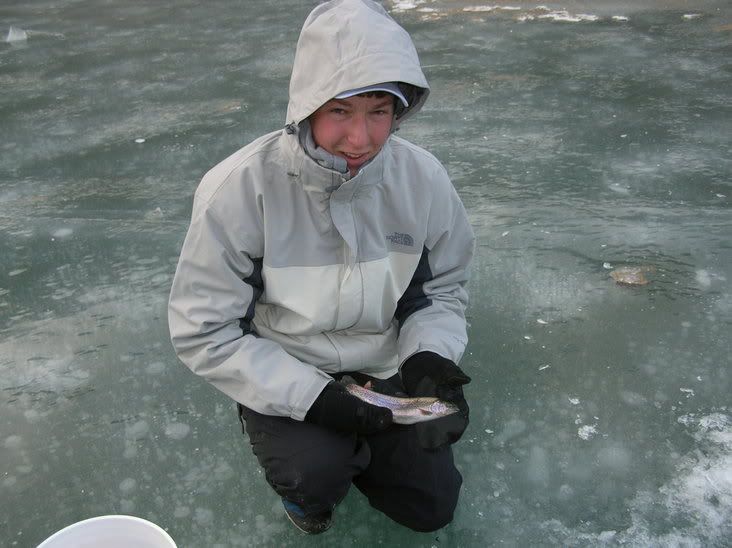 Side of the lake we fished with the storm blowing in.
Open water on the east end.
Tight Lines.