Discussion Starter
·
#1
·
I recently went to a lot of work finding a good sharpener which would work easily on the smaller hooks I use here in Colorado. My previous sharpener had been purchased and used in Michigan where the average fly size is pretty big. I did find (and purchased) a sharpener which I think is pretty great. It puts a needle point on even dull hooks with only a few strokes. Some of my nymphs get pretty dull from bouncing along the bottom and being snagged occasionally. Here is a link to the one I bought:
http://www.sharpeningsupplies.com/DMT-Mini-Sharp-with-Fishhook-Groove-P13C0.aspx
This sharpener folds up and it you sharpen routinely it fits on the vest front pretty well. I have no affiliation with the above company.
Here is how it looks on the vest front: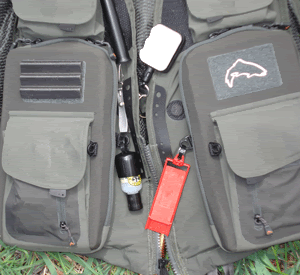 I apologize if this is the wrong place for this kind of posting, but I get pretty excited when I find a good piece of gear.
EdwardS