Discussion Starter
·
#1
·
A buddy from work invited a couple of guys he met through work to ice fish this past weekend. My buddy and I work for a major HVAC manufacturer and the two guys he invited are HVAC field service technicians out of our franchise office in Houston, Texas. They flew out Friday morning with two of their friends for a weekend of ice fishing.
First up was 11 mile reservoir; hence, the title, Houston we have a problem………. My buddy and I were stressing all week about the ice conditions or lack thereof. The last thing we wanted was to tell these guys there isn't any safe ice to fish on. Well, we arrive at Cross Creek only to see the ugly pressure ridge and open water out of Suckers Cove. What a major let down. Consequently, we decide to try it anyway. Ice was sketchy to say the least and very minimal snow. The boys from Houston were a little leery but threw caution to the wind and headed out on the ice with us. Long story short we couldn't fish where we wanted to and as a result only managed one fish between all of us. The lucky angler who managed to put one fish on the ice was my buddy's good friend Rick from his previous job. Rick was the one who introduced my buddy and I to ice fishing over twenty years ago. Tony and I have been hooked ever since.
So, after a non-productive day for all of us except Rick we head to the cabin for the night and game plan for Saturday. The plan was to ice Antero on Saturday and get these sea level ice cherries on some fish. We got to Antero just before 7 am and are relieved to see a solid cover of ice over the entire lake. We headed out from the north boat ramp and headed to one of our previously fished spots from the many years we've been icing Antero. The morning started out pretty slow, but the action picked up as the day progressed. We managed to pop a couple of the cherries and see them ice their first fish. My buddy's old friend, Rick had the hot hand again and out fished us all. He returned all his fish to the water except for two. Everyone else caught fish with the exception of two of the newbies. I missed more fish than the ones I iced, but did manage the biggest fish for the day. Unfortunately, I lost one bigger than this earlier in the day.
Saturday evening we had a fish fry so the newbies could sample some fine Colorado trout and also erase our possession limit so we could fish again on Sunday.
Sunday we fished the same area and had the same result as Saturday. One of the two who hadn't iced a fish yet got rid of the skunk early and my buddy and I were relieved for him. Unfortunately, we still had one more cherry to pop before we could consider the trip a success. He was getting frustrated as the day went on and still no fish to show for his efforts. I told him he needed to get rid of that negativity and send good vibes down the hole. I also told him there have been times over the years icing I have had the same luck only to land a good size fish after nothing all day to show for my efforts. I said, "Good things come to those that wait." I don't think he really bought it, but is seemed to appease him for a little while. Finally after two days of the skunk he gets the hit he's been waiting for and ices his first fish. Now, we're all happy for him and the trip is a success. As fate would have it just before we were going to call it a day, Sam gets another hit and this time the fish starts pulling his drag after a few tense moments and some coaching from my buddy, Tony ; Sam manages to ice the biggest fish of the day. His expression says it all.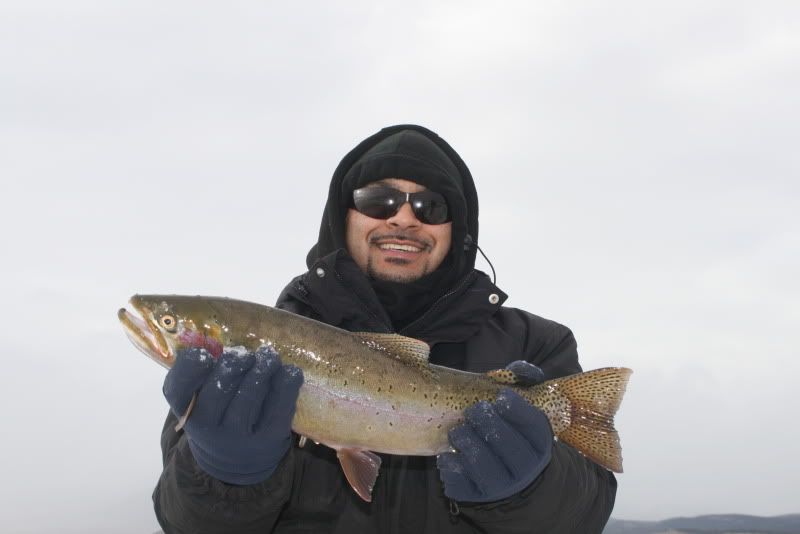 Here are a few pictures of the fish we caught. Nothing to brag about and certainly not a true representation of the quality of fish that Antero can produce, but we were able to get the Houston boys into fish and that's all that mattered this weekend. My buddy and I had a great time and thoroughly enjoyed the time on the ice with our old friend Rick and our newest fishing friends Sam, Chris, Bobby and Cesar; Ironically, their already talking about coming back next year.
Rick in action at Antero
Chris, Cesar, Bobby, Tony and Sam