Discussion Starter
•
#1
•
"You think it's dead, one more, makes a hundred percent sure."
Just to make sure, I put one more in that stankin' a$$ skunk today. (11/14/2010)
Same lake.
8:00am-1:30pm.
Same presentation.
Similar result.
We hit the lake this morning with high hopes. When we got on the water, the temp was around 22 degrees!
Freakin' cold and windy. Mostly cloudy early, with the sun coming out later, then getting cold and windy again later in the day.
We started in a spot we didn't make it to yesterday. Nothing there, missed a nice hit dragging (I don't troll... :
) a 1/2oz blade bait on the way to that spot.
Not feeling the slower presentations today, we focused mainly on the jerkbaits. Moving to a new spot, I got followed by what looked like a nice smallie...it turned away right at the boat. So that's two days in a row I get followed by a nice looking bass, but couldn't connect. Anyway, as we worked the shoreline, we found a nice weedline that was on the edge of a nice little drop off. We picked up two short eyes in that spot.
After a bit, we ate a quick bite, and moved to a spot that normally produces well for us. We picked up one eye there after some time spent washing lures. Nothing after that in that spot.
We hit the spot that produced the best yesterday, and it didn't disappoint. We finished in that spot. We fished it hard for about 2.5 hours, there we picked up 5 more eyes, with two of the five being keepers. Same pattern, jerkbaits in 12-20 FOT (meaning, we'd post up on points, weedlines and/or drop offs in 16-20 FOT, casting to 12-16 FOT).
Water temp was right in the same range as it was yesterday. 46-48 degrees.
Pics:
The two from yesterday are on top.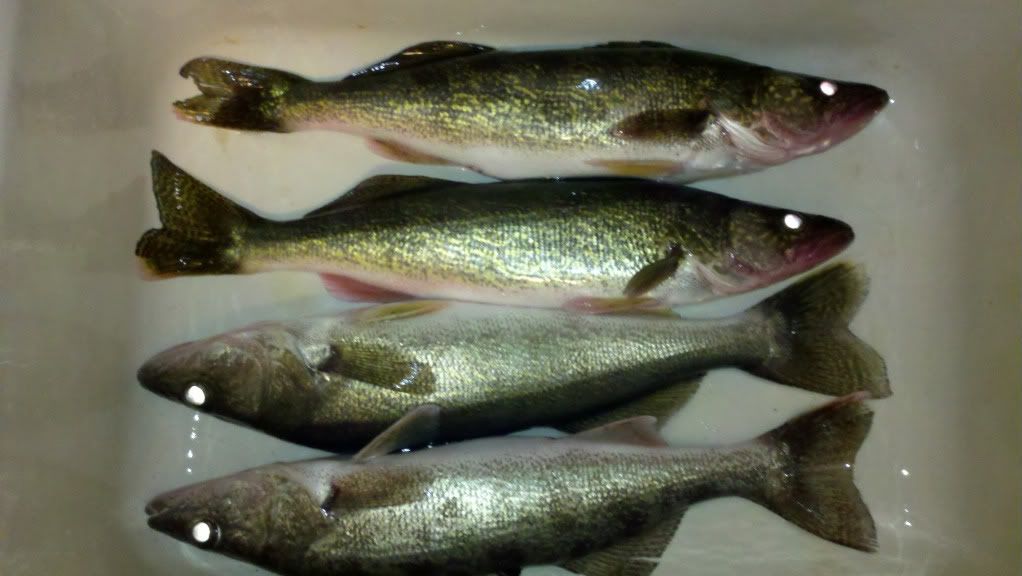 The fillets: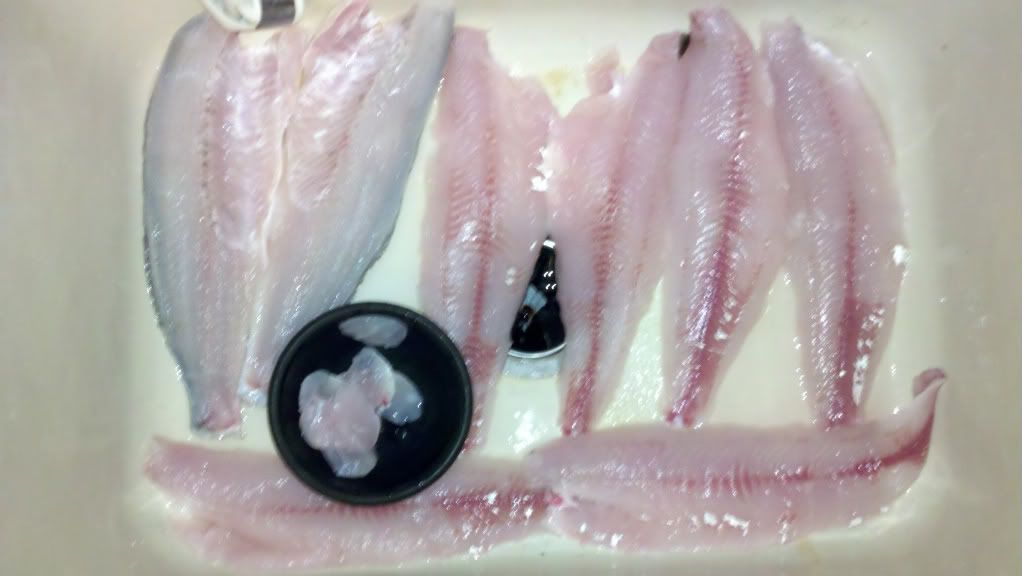 I love fall fishing! Let's hope for open water all season long!
Skunk is dead...dead...double tap that a$$.... O0
http://www.youtube.com/watch?v=PapZO7NXB3Q