Discussion Starter
·
#1
·
I haven't done a proper report in some time. High lake overnighter with Simp (aka Biggie Smalls).
About 1.5 hours into the hike, the terrain starts to level out a bit as we are getting up to timberline and we enter some glades. Something catches my eye off to the left and I stop. Simp is behind me so I just point off to the left. It's a cow with two calves about 75 feet away from us walking out of the woods toward the trail and looking at us. Willis (dog) is oblivious and even closer to them, scampering around on the trail sniffing grass and ****. Simp starts calling Will in a low voice and I pulled out my camera and snapped a quick shot as we start slowly backing away. The photo is not zoomed. You can see the 2 calves behind her if you look closely. The cow is looking right at us and seems to be agitated by Willis, but she doesn't move and lets us retreat. I don't think that Willis ever saw them.
We back way off and do a loop around a little knoll and pick up the trail further up. It definitely got the blood pumping.
We get to the lake and head to the camp area I had picked out on the topo map. The spot already had a fire pit built and wood dragged over to it. We set up the tents, unload all the kitchen supplies, and set out to fish. We weren't there long and Simp picks up a cutty on a bugger.
With new lakes I like to scout the entire shorline so we keep moving and finally find a spot that is super sexy and, sure enough, is holding numbers of fish.
We start popping em regularly in the 9-14 inch range. Then, a nice female comes to hand:
We decide to move after beating the **** out of that spot. We are both into double digits at this point. We get on a SUPER steep wall of rocks, pretty uncomfortable place to be because rockslide seemed imminent. However, it was either that or take the long way back around the lake. Simp catches 2 gorgeous fish there.
Some time after that the sun dipped behind the peak and we pack up to head back to camp. We start a small fire which took longer than usual due to everything being soaked, and watch the shadows creep up the hills in a perfect setting. Poor Willis couldn't lay down on the rocks at the lake, he was BEAT. He was leaning up against me and shivering ready to crawl in the tent.
We kept 3 12-14" fish for dinner. Gutted, lime juice squirted inside, coated the outsides in olive oil, and thrown on the coals.
Took em out and dashed em with old bay and a little more fresh lime juice:
I gotta tell you guys, this was the best trout I've ever eaten. Hands down, no comparison. Moist and orange all the way through and just slid off the bone with no effort at all.
The aftermath:
We reused the tin foil and cooked the third one. We ate half and then mixed the other half of the meat with Willis' food. He wouldn't touch his dog food before. With the fish, he didn't even chew it, just straight inhale. We cooked up some more camp food that we brought since we probably burned 3,000 calories on the day and got super stuffed. We burned the fire down and Watched the stars dot the sky and then passed out, not a breath of wind...
The next morning. Coffee and Sour Diesel:
We gather our rods head back to the water for more fishing. The lake is pristine:
Fish are cruising the banks in groups and are hungry. I sit down and start picking them off by sight with nothing but my leader hanging over the rocks. I watched a beast fish eat, but I was so close that when I set the hook it was too soon and it pulled out of its mouth. That action died off in about half an hour, we were pretty late getting up there I believe. However, with that sunrise at camp, I don't think that we missed anything.
I had a real nice one come unbuttoned 2 feet from the net after a drag peeling fight in which the fly slipped out and fouled it in the side halfway through. It was all lit up with red. Soon after Simp landed a nice male that drug him around for quite some time.
Baby got back:
Catching his breath on the release:
Then another:
Around noon we called it a day, broke camp, and packed it out of there. I believe that we hiked about 15 miles on the weekend. I have blisters on both my feet and it appears that I rolled my ankle slightly from the swelling on Monday, LOL.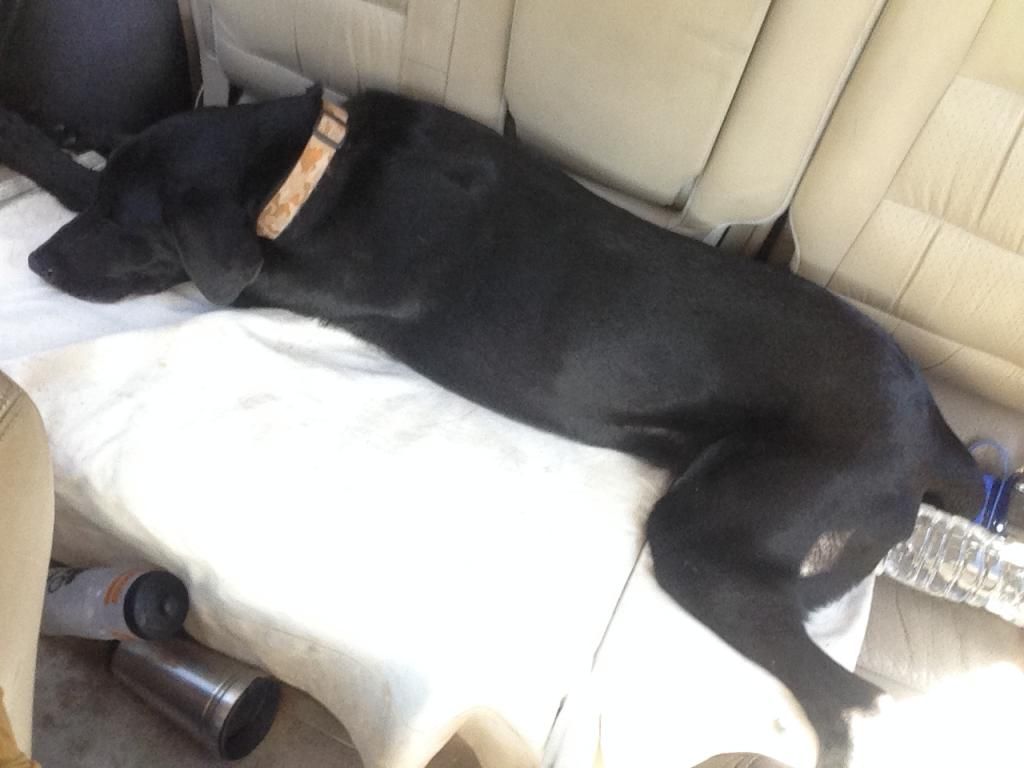 Fish were caught on an array of flies. It seemed to be more about when the fish decided to eat rather than what we were using. They ate in waves. Periods of hot action followed by periods of long lulls. 30 minutes of nothing... and then a double.