I was gonna make it a full weekend since I didn't have my son, but I don't turn down 400 dollar runs on bluebird days in Wyoming.
After getting off work, I packed the car and the girlfriend and I drove through the night to prowers county. We were gonna go get a beer at the local bars in Lamar but seeing all the cops around made me wary, so we laughed at the local trim that was out and about.. and the tweakers at Walmart... Then found a place to crash for the night by where I wanted to fish.
Next morning, we got up... And went for a hike. Since I haven't been to the place in 5 or so years, I noticed that there was newer maintained fencing, so I made an effort to do the right thing... Find the new landowners and ask for permission, which was obtained when I went to the property owners house. After doing so, we returned and began the long hike back through the brush and tamarisk to my spots... They were changed radically due to past flooding... but I had good hopes. We started fishing, and it was tough... But we soldiered on and caught a few on white mr twisters.
After about 1 we went to town where I ate the best soup ever... And then drove to J-mart dam, where I proceeded to throw it all up due to food poisoning I got the day before. Still didn't stop me from setting up shop.
Set up an ocean surf rod with a shad head...,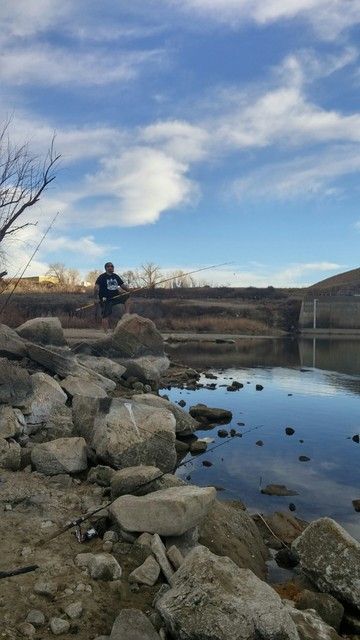 and trish and I threw mr twisters. 45 mins later after saying "let's pack it in, I feel like ****" something picks up my jig on the drop... And I set the hook.
After a fight that resembled dragging a sack of potatoes...
... I was blessed with my PB walleye.
We left soon after because i started getting a bad fever. Didn't get a nibble on the cat rod...
I also wanna give props to my girlfriend. In the year we came back into each other's lives she's literally been the best fishing partner I ever had. From hoofing it on ice in grand county to slogging through nasty brush, to hitting up side canals in the Everglades... She does it all with a big smile on her face, and she catches fish. What's more awesome? Till she met me.. She never fished a day before in her life. Never thought I'd find a bird like that, ever. Women who enjoy fishing truly exist, fellas.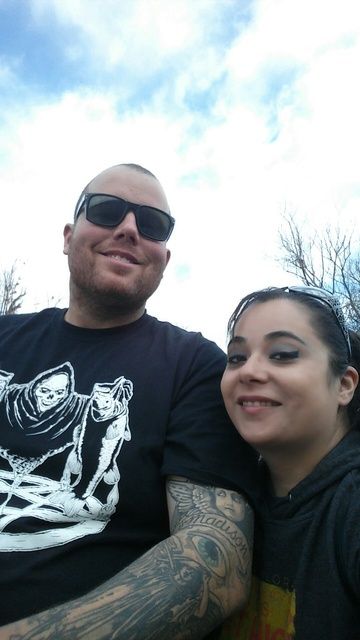 IMO it's a week or 2 till it starts heating up. For the first time in 2 decades water was coming over the spillway... Water was still really frigid.
According to Jack, they turn on the dam April 1st. Just a heads up.