Discussion Starter
•
#1
•
Well, the plan was to ice Jefferson today, but the wind had other plans. After numerous replies from other forum members on Jefferson we decided to give it a go regardless of the weather forecast. Forecast was a high of 2 F and 15 – 20 mph winds with gusts up to 30 mph with wind-chill values as low as -42 F.
As F.F Woodycooks stated, "Jefferson is an awesome lake to ice, but it's a very cruel mistress in the winter. If the weather is crappy I wouldn't go up there unless you are prepared." His statements were right on the money today.
We arrived at the first gate at around 7:30 with little problems getting there and the temperature in the truck showing minus 17 F. It was breezy but not bad as we unloaded the machines and hitched up the otters with all our gear for the ride up. It was extremely frigid and you definitely didn't want to touch cold metal with bare hands.
The trail up was no bad at all with a few drifts up at the top that required you to lean to the slope side to stay on the trail; however, the wind was whipping the snow around as we approached the boat ramp. We parked near the boat ramp on the sparse patches of snow that hadn't been blown away by the recent winds. Consequently, the boat ramp was bare of any snow and the lake had patches of snow but lots of bare ice. So, two problems; one how to access the lake and two none of our sleds have studded tracks.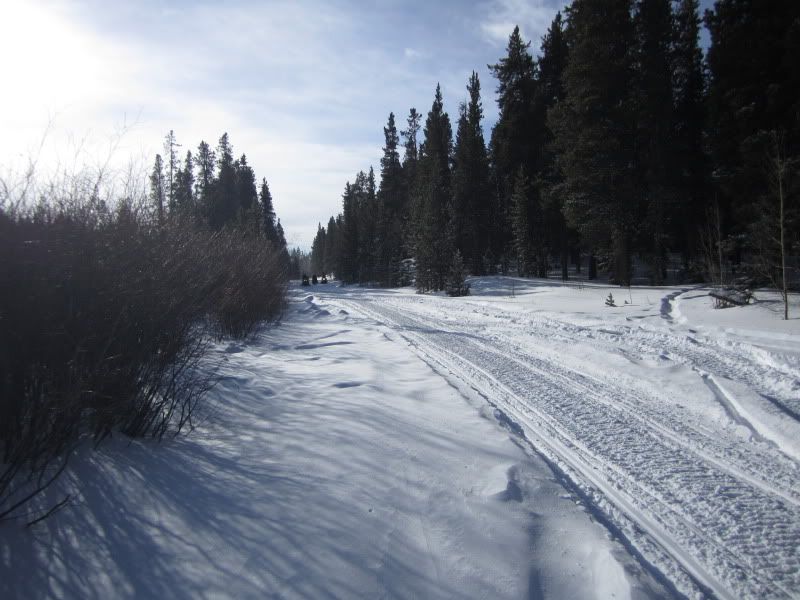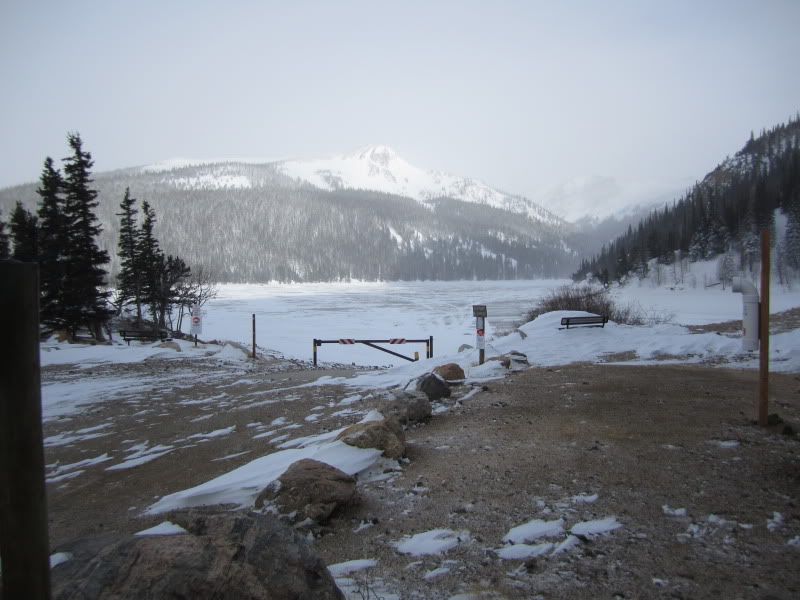 Let's see do we want to take sleds over bare ground and a cement ribbed boat ramp. I don't think so. So, do we look for access from another spot along the shore and then try and zoom across bare ice with non-studded tracks. Nope.
Even if we had been boneheaded enough to try and get on the lake there was no way in hell we were going to set up the Clam Summits and Eskimo Quickfish 3 in the sustained wind of at least 30 mph. That had disaster written all over it. So, we huddled behind the bathroom to get out of the bitter wind and pondered what could have been.
I had visions all night of icing some macs knowing there was a possibility to land a bruiser, but I was smart enough to know Mother Nature had no intentions of seeing any macs iced today. I jokingly asked the crew, "Whose fricking idea was it to ice Jefferson?" They all looked me with glares that said, "You a-hole!"
Well, obviously we turned the sleds around and head back to the trucks. On the way down we met two guys on a sled headed up and we waved them down and said don't bother. At the trucks we unhitched the otters and decided to run up the trail and back a few times on the machines. After a few runs up and back we loaded up and decided to try Antero.
Check out short video:
[/URL]

Arrived at Antero about 10:30 and headed off the north boat ramp to fish a few spots that produced in the past. There were several parties out on the lake with some open water visible off the south shore. Ice was 5 – 6" where we were set up. I had a few taps while jigging a few holes I had drilled in search of fish but no hookups for me and I came home with the skunk. Doug and Martin managed to ice a few fish with Doug landing the nicer ones. I believe Josh came home with striped kitty as well. Wind blew constantly and was bitter cold.

[img]http://i118.photobucket.com/albums/o100/checkers8_album/IMG_0262.jpg

Overall, it was still a good day even though I came home with a skunk. I got to see some country I had never seen before and got the machine out for a little romp in the powder. Most importantly, I got to spend some time in the outdoors with good friends in less than ideal conditions, but it beat a day cooped up in the house watching Bowl Games.

I definitely want to try and ice Jefferson again in the future, but only when Mother Nature will allow it. No fish is worth risking your life for and I'm now a firm believer Jefferson is not for the faint of heart.

Happy New Year all and to all the folks that provided me with information I appreciate it.

Ed (Checkers8)