Discussion Starter
•
#1
•
My buddy, Joe, has had a case of the 11 Mile skunk lately. Anyone who has ever fished there understands that. The skunk was partly his fault as he didn't wear the lucky sweater that his wife knitted the last couple of times. Well he wore the sweater yesterday and got over the skunk in a big way yesterday with his first pike ever
We began at Sucker Cove and went as far as we could along the pressure ridge before settling in. There weren't a lot of fish sighted but the ones we saw were quality. I had my Aqua Vu going all day and
we never saw a single stocker trout!
The morning was perfectly quiet until the 11AM wind kicked up, not too bad but it did make its appearance.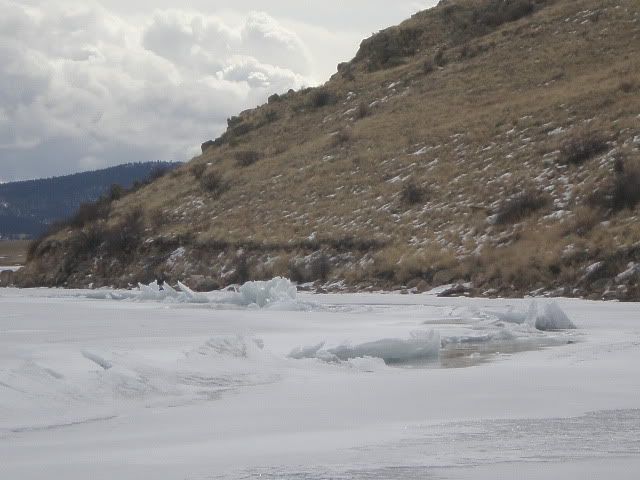 Joe was taking a walk and he returned to his hut to see that his slip bobber was down the hole and gone. He called me and asked me what he should do. I went over and saw that line was still being taken out from his reel (open bail) so I told him to feed more line and set the drag properly. When the line stopped paying out he closed the bail and waited to make a hard hookset once the line moved again and went tight. Fish on!
I could tell from the bend in his rod and the way the line was paying out against his drag that he had a good one. She came to the hole three times over five minutes before I was able to gaff her.
The numbers: 33 3/4" and 13 pounds.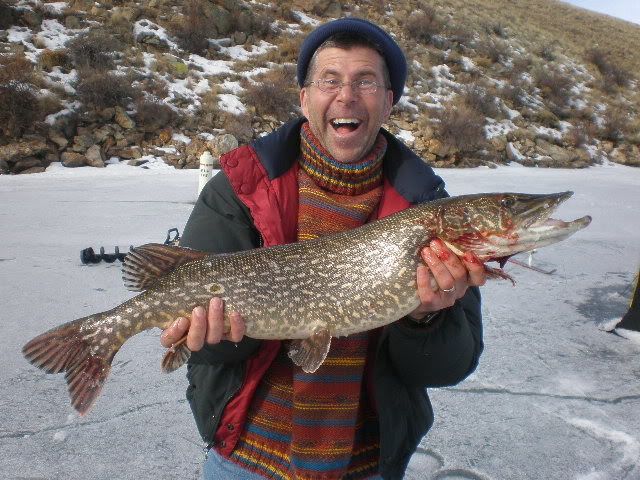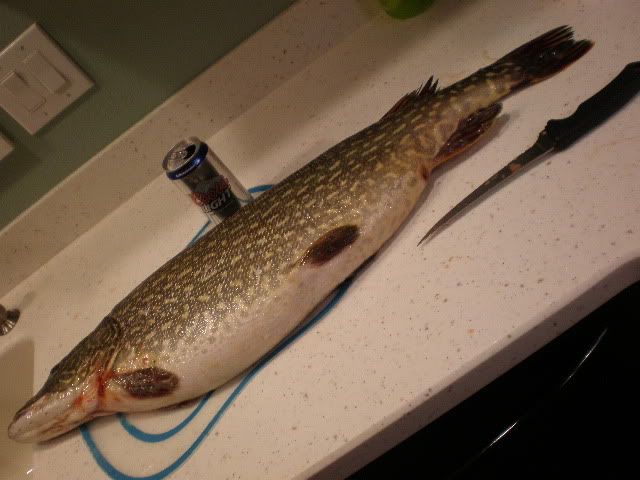 I caught a 25" pike and then we decided to try west if we could get there. The bad news was that the pressure ridge went right along the southern shore of Cross Creek, right where I wanted to fish for trout. We decided to prospect along the southern shore instead and wound up at Witchers for the afternoon.
We got into an area that I hadn't ever fished before and we saw a ton of fish, both trout and pike. We each lost one more pike. The funny thing about the pike I lost was that I watched it swim in, hit my waterdog and keep swimming. It never stopped to adjust the waterdog in its mouth but just kept swimming for over a minute, taking line pretty quickly. When I went to set the hook I momentarily felt the weight but just retrieved the waterdog. Had to have gone 50 yards in that time – very unusual. Never had to wait that long for one to pause and readjust the bait. Rookie mistake. The waterdog was beat up but still able to swim and perform. There were no more pike takers the rest of the afternoon.
Joe did get a nice 19" rainbow on a slugbug with a mealie.