Discussion Starter
·
#1
·
1st, I hope this counts fishslap (It's a little late)
2nd, I have to thank catfishking & kokanneeking. They've been telling me to try here for a couple of years.
3rd, I have to thank ksdroptine. He knew I was taking the kids (I was going to travel further). He told me the bite was on, and even a good spot.
4th, I don't white out pictures. If you know the spot, I hope you'll like the post more. (maybe even offer me tips for next time :biggrin1
Please don't name it though. Even if you think it's not a secret.
So, the story...
It's been a tough ice season for the kids. Too cold a lot of the days I had off. Also, one of their favorite spots was closed this year (from the flood). Usually ice is their favorite, but they had been losing interest.
When we got there 4 guys were fishing. Pretty much right where Joe told us to try. They were cool, but said they hadn't had any luck. They did tell us a spot where they had had bites earlier though.
Isabella caught a Bluegill jigging right away.
Then a Rainbow, and another, and another...
In the first 20 minutes she caught 2 Bluegills, and 3 Trout. She also had someone ask if they could take her picture with her fish. The woman said that she fished with her dad when she was Bella's age.
After her first Trout I had put a salmon egg on a dead stick rod for Michael. Isabella had caught all hers jigging, but Michael doesn't have the patience yet. Watching her catch 5, and getting attention was too much for him. After he lost a fish, he started crying. I hear a voice ask him if he's alright, and turn around to see a police officer.
Isabella was only using one rod, but I had two going for Michael. Luckily I wasn't fishing (so the other could be mine) The officer was really cool, and actually gave us a lot of info on the fishery. He even gave the kids each a badge sticker for their ice fishing buckets. I hooked one for Michael to reel in, but it shook. Also, his dead stick rod doubled over. Unfortunately, he had his arms tucked into his bib straps, struggled to free them, but not in time. Just then, Isabella caught another, and the officer asked if he could take Bella's picture. Too much for Michael again, and the tears started back up..
She caught a few more, then he finally got one. Luckily it was the first Crappie of the day!
He was relieved, but after a few more fish (he caught 4 more Trout), done too. I had brought a Despicable Me coloring book for him, so he was happy. Isabella continued to catch, and even had another lady take her picture with a fish. I caught my first (of course the smallest of the day) The kids both thought that was hilarious :-[
Anyway, After awhile, they decided to play on the ice. I was happy, they were pretending to be Zambonis and hockey players. Oh, and I got to fish a little. Just as the Crappie bite picked up :thumb:
Oh yeah, once the Crappie showed up, my spot was stolen.
Isabella had to get into them
Great day with the kids!
Pictures
Kids picked the pre fishing meal (they also picked a stop at a comic book store on the way)
1st fish (again, please don't name or hint at location)
She caught over 10 Trout, over 10 Bluegills, and over 5 Crappie this day! :thumb:
Michael with the 1st Crappie of the day
I have to add. When going for Panfish, nothing beats this Eagle Claw - Wright & McGill set up. I have loved this combo the past two years. Sensitive enough to feel even the light bites of Crappie. The in line reel keeps tiny jigs from the spin they'd do underwater from the coils of a normal spinning reel. Love this rod as an all around, but absolutely killer for pan fish!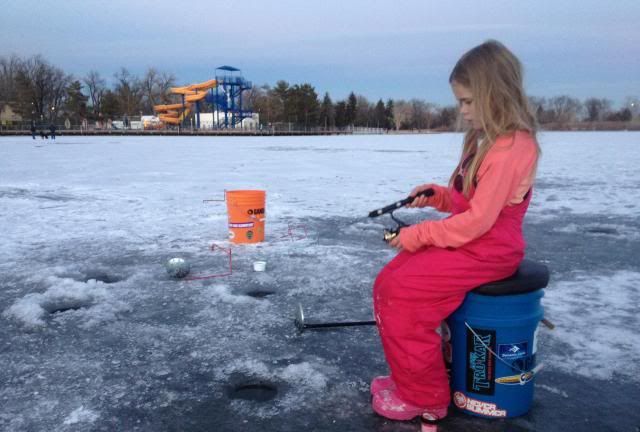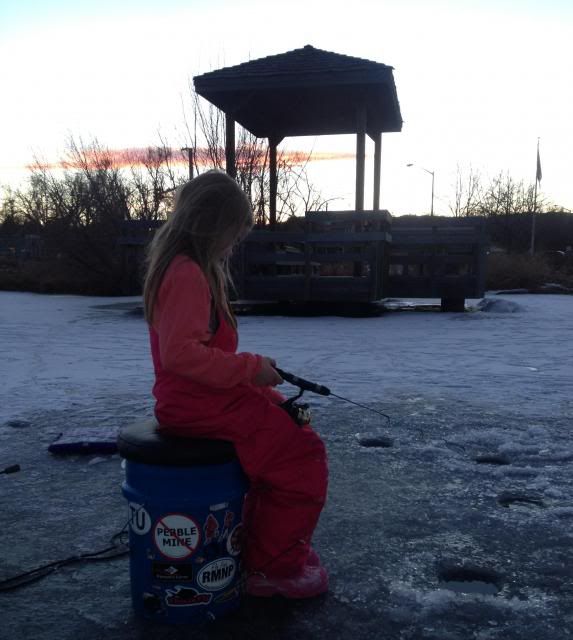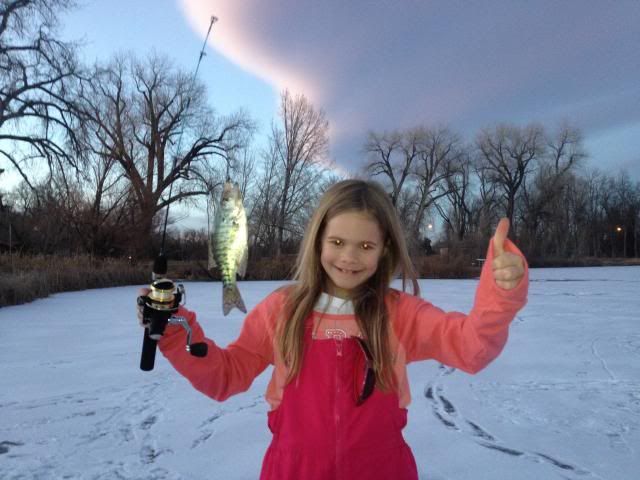 Again, thanks Brian, Anthony, and Joe. One of my favorite days on the water, getting to watch my kids love ice fishing again
Thanks fish slap for the challenge. This site needed it!
Thank you all for reading!