Discussion Starter
·
#1
·
Fished Lake Loveland late Sunday night/early Monday morning from 11 p.m.-2 p.m. Battled some nasty weather -- heavy winds, big waves, rain and even a little bit of hail. I was able to gut it out enough to catch two nice walleyes right near the riprap, right in front of the statue near the parking lot. The one in the first pic was 17 inches and 1.25 pounds and came on the first cast of the night. The second one, 20 inches and 2.5 pounds, came around 1:30. Both were caught on a 3-inch chartruese husky jerk and both hit the bait right as I was getting ready to pull the lure out of the water. Casts parallel to the shore seemed to be the key.
The 17-incher: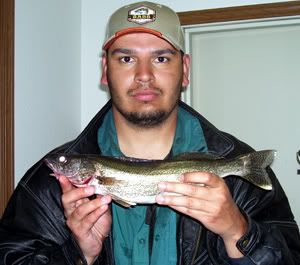 The 20-incher: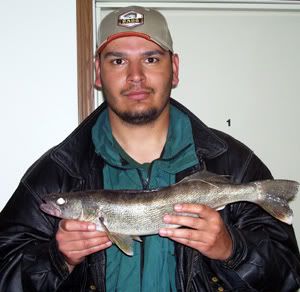 Monday, I fished from 4 p.m. to 7 p.m. I didn't think it was possible, but the weather was actually a little worse than before. Caught one ~10-inch smallie on the same husky jerk and in the same spot where I caught the walleye previously. I got two other soft hits on a crawler under a slip bobber but missed the hookset (I'm guessing they were small perch).
Rushed home to see the Nuggets embarass themselves.