I havent put up a report for quite some time and my nephew took a bunch of pics so I figured what the heck.
Left Silverthorne at 5:15 a.m and it was -11. I was optimistic, I figured by the time the sun came up and i dropped some elevation, the temps would be more hospitable by the time I would get to the lake. I got there, heavy fog was set in, it was breezy and the temp before wind chill was -1 at the boat ramp. I sat in the truck for a few and wondered WTF I was doing while i waited for my Brother in law and nephew to show up.
I'm getting a little bit wiser nowadays about fishing in conditions that can ruin your boat, or even put your life in danger, but wisdom got thrown right out the window because i knew the bite would be on. We launched the boat. The motor fired right up and it was happy. I tried to back off the trailer and the damn boat was froze to the trailer. We pulled her back out and all three of us pushed back and forth on it, and we got it to dislodge. We backed the boat back in and and off the trailer and i went to turn the boat. The steering wheel would not turn, the hydraulic steering mechanism was froze. So i went to deploy my bow mount to get back to shore and it was froze to. My brother in law and i put some elbow grease into it and got it to deploy.
We sent my nephew back up to the truck to get the boat cover and we then draped it over the motor to make a tent. We let the motor run for about ten minutes to heat things up and then with my nephew and bro in law both pushing on the motor and hydraulic arm we got it to loose a little, then a little more so then it was wide open throttle to the spot. We got to the spot after cruising through the heavy fog using only my chart plotter to navigate. I found fish stacked in 60 so I put the bow mount on anchor lock and went to grab a rod.
After unfreezing the rods we made our first drops and it was on. I got tagged immediately and my old femwick HMX snapped like a twig. I grabbed another rod got my jig down and bam, fish on and in the boat.
The conditions were no longer a challenge and we all forgot that it was pretty dam cold when we pulled up to the spot. It just as well have been sunny and 75. We threw back somewhere around 15 fish between 18 and 25 inches and kept 12 between 17 to 18 inches. All to together we boated somewhere around thirty five fish every where from 25 feet to 75 feet deep. Them Macks were on wholesale buy the numbers. It was Mack Friday
You can see the line this 24 incher had coming out of its gill plate when i caught it. I cliped the line and released him.
Another 2 footer I released.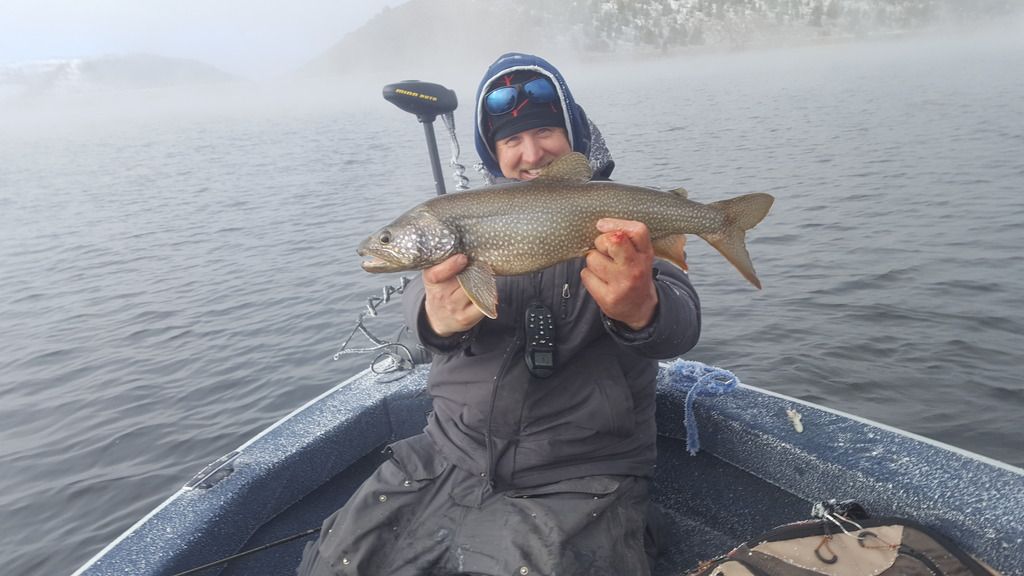 By 9:45, the fog started to lift, the sun began to shine. And there I was again. Right back where I belong, in paradise.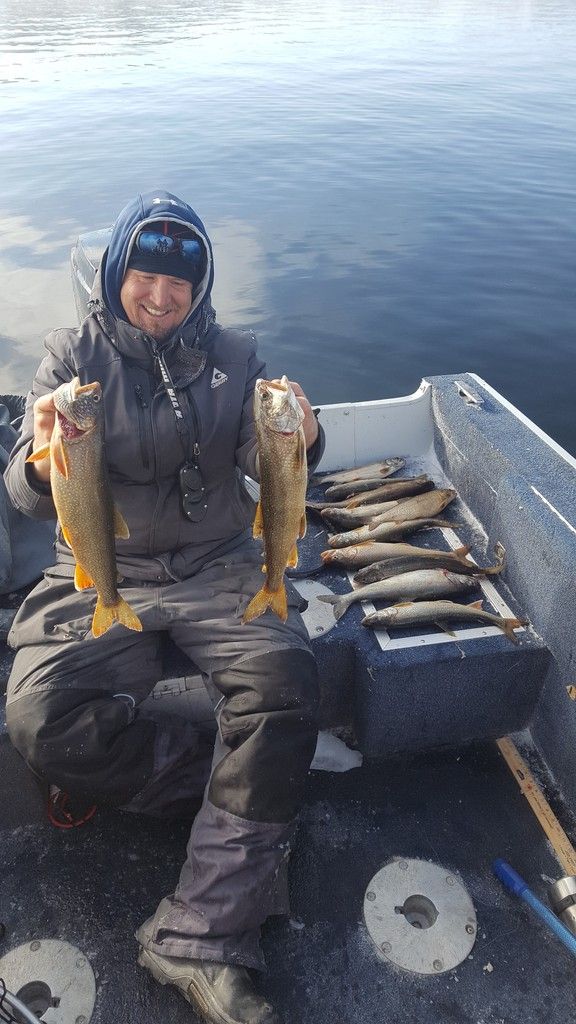 We stuck to the first spot for a while to enjoy the sun and then decided to target some big ones. With a tip from redleader on a spot i haven't tried before, I fired up the engine and Damn, I guess I jacked up the rack and pinion steering mechanism and stripped the gear in there and it wouldn't let the motor turn again. I unbolted the steering arm from the hydraulic arm and I ran the throttle while my nephew steered the motor like a till, This was kind of scetchy and hard to do, so we decided that we would call it well enough and it was time to go eat, then drink beer and dismantle the steering system. I just ordered my part, paid overnight shipping and it should be here by Tuesday. I sure would like to get out a couple more times in December.
I guess old habits are hard to break. Heres one from 20 years ago, doing the same ****, same time of year. I freaken love fishing for lakers in gnarly weather!