Selling a MirroCraft aluminum boat with trailer and Evinrude 25 motor - short shaft. All in fair condition but needs some work.
It was my dad's boat and it has sat for a few years so it needs new tires and the bearings probably need to be packed. The motor has not been run in that time either, but he maintained it well always going through and checking everything each spring before taking it out.
Since it is an older boat, motor and trailer I would like to get $595.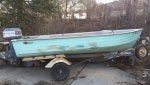 Please PM me if you are interested... thank you!