Discussion Starter
·
#1
·
I was gonna go east to prowers county with my boy, but i needed to be on call and available this weekend for work.. so I decided to go back to loveland to go explore with my motley crew. went to tithe a percentage of my paycheck to the boys at bennett's bait and tackle, and then we found some neighborhood ponds and a burrito shop in downtown. we all ate lunch and then explored some local holes.
Saw lots of gills and crappies in one of the ponds, so we kept it simple... we used small bobbers with nightcrawlers. I just wanted to enjoy the fresh air, and spend time with my son. the pond we found had eager fish and they provided us with all the fun we could handle. spent the afternoon helping out the kiddo with casting, hooking and reeling in bluegills... and showing him the fish's colors. dude is turning into quite the fisherman.
guy was asking questions about the fish.. and wanted to hold it, i had to explain to him how they had spikes and you had to be careful...
dude was weird about touching the fish after talking to him and presenting it...
he also managed the biggest gill, one that looked about 7 inches.
and of course, he tangled a few times... so i had to jump in to rescue his rig..
got him free, and decided to get my long pole to go marlin fishing... hooked into a real beast here.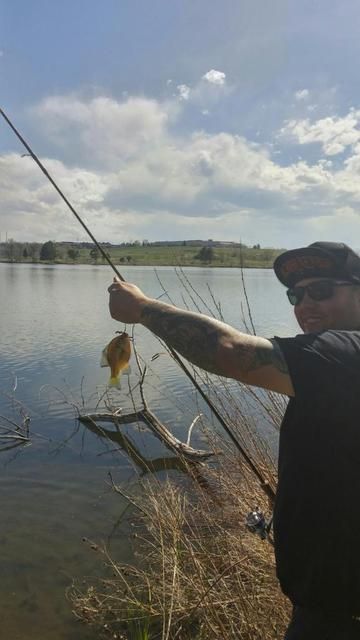 afterwards, the son wanted to go get a snack.. so we went to the gas station.. and then went to boedecker to see the lake's level. lake was just about full. we fished off the dam for a few in the breeze, hoping the white bass would be following bait being pushed into the rocks. unfortunately that wasnt the case, but we sure as **** had fun trying.
we tried looking for an inlet but it was on private property i saw... so we decided to go home.
so for people who are curious and to keep the report informative... the local ponds up there are producing well, saw lots of gills, crappies and bass swimming about in their usual haunts. boedecker was full, and loveland lake was dumping like crazy. it was 3 feet higher than on wednesday when I was out there. horseshoe lake was a mud puddle and boyd was full, and had lots of people. heinricky was weedy AF and full as well. didnt check the fishing in those lakes, didn't feel like paying to get into boyd to be a part of the fisherman mosh. when I waded in the lake to rescue my son's rig.. the water wasn't terribly cold. the water at boedecker still felt chilly... probably had a lot to do with the slow action, aside from the lake being a place that's always tough fishing.
getting up at a decent time tomorrow morning to go out west a little ways to drive. since nobody told me the details on granby ice, I'm leaving the ice gear home and just driving around looking for fishable open water on granby, the canal, the fork and wolford. will report what I see. thanks for reading...