Discussion Starter
•
#1
•
I suppose I am at least half way recovered at this point, though far from anything resembling done! But thought I had better start jotting down my thoughts before they are gone, and especially since I did not remember to take along my journal this year (item # 1 of the 11 items we realized I forgot) …DOHHH!
As I had mentioned many times before, I felt very fortunate this year to draw a Ranching For Wildlife tag on the Big Gulch Ranches. …and incredible it did indeed turn out to be! ...though I must also be the first to admit, I was pretty worried on more than a few occasions.
The Tag - My license was valid from Dec 4th - 15th, but due to a new job, I was only able to commit from the 4th-12th. I also managed to get Friday the 3rd off, so we made plans to leave as early that morning as humanly possible after everything was packed of course... we would begin on Thursday the 2nd right after work.
Check-in for the hunt was at Craig sports store in town on Dec 3rd from 3-6pm. Our plans were to somehow get there, FIND A CAMPSITE (only had a couple of suggested areas to look at), set-up camp, and then run to town and check-in. Now check-in is a first-come-first-serve-basis, and it is partially for assigning you to the area you will be hunting. Yeah, right! Let's see how this one works out!
We made it to my house early evening and began throwing everything everywhere…if you know what I mean! LOL!
Cut to 6 hours later and it is 2am and we are ready to go! …Let's hit de road already! …on the road by 2:30ish…
I suppose I can preface all of this a bit with by providing some understanding to everyone that I am fairly familiar with the general area of the ranches, since I normally do hunt nearby. But by no means have I ever really checked out any of the land I could be hunting. So I can honestly say this was the least prepared for a hunt I had ever been. It was also the latest in the year I had ever hunted big game.
After a very long night of driving, and mostly though Wyoming, we finally made it into Craig a bit before 10am. Another top off of the tank, and we head directly out of town to find the camp spot suggested by one of the ranch owners Curtis Cook. It butted up against the southern border of one of the ranches just northeast of town. Found it easily enough, but drove on by to take a quick glance of the property we were attached to in the hopes that elk might be there and I might be lucky enough to be assigned to it for the hunt. We made a quick trip up the road a piece, but still had a ton of work ahead of us, and by quarter to eleven we were actually "throwing everything everywhere" once again! And I surely cannot thank Curtis enough for the great info on a super convenient and perfectly located campsite! THANKS!
In another unbelievable occurrence, we were actually done with camp & heading back to town by about 2:30ish for the second time in 12 hours! We arrived at the store a bit before 3 and I ended up being 4th in line. Well, after each of the first three groups took near a half an hour each, I was in and out in about 5min and was very fortunate and entirely coincidentally, lucky enough to be assigned to the ranch right where we were camped! "That's a bingo!"
So, strait back to camp to get ready, hunt starts at daybreak! YES!
Ok, now one of my "very important" superstitions is to eat some kind of pasta with some kind of red sauce the night before opener. So since we had not "really" eaten anything since Wendy's in Laramie at about 4am, that was the first thing on our minds. Pasta was ate and dishes done in short order, but after a bit of lolly gagging & much BS'n, I noticed it was near 10pm, So I began trying to get everything together for morning. Well, somewhere shortly after I started, I musta laid back on my bed, and instantly floated away into a somber snore fest.
DEC 4th
The next thing I knew, the sun was up and I think Kiwi needed to "find the facilities" worse than I did! Burrrrr! Guess in all the BS'n we forgot to talk about our "Heating Plan!" LOL…first morning = 9 degrees on the ol thermo …BRRRR again! After Kiwi & I were done, "finding" the facilities that we really did not have, I managed to spark up the Big Buddy heater and also get some coffee started. I suppose after a 41 hour day a fella is entitled to miss his first opening morning hunt ever! I sure did need that snooze, and can't say I regret the missed opportunity.
After some rearranging, wood re-stacking and BS's on the heating arrangements…we had a quick brunch of what I call "Breakfast Tacos" (one of my specialties) and we were off to really give the property a looksee for the first time. The southern edge of the area we were assigned to was just over a half mile up the road, and from the map it looked like there were a couple of roads that kind of made a big loop around the approximately 5 mile by 5 mile square ranch. A general description of the property, would be that it has 1 large drainage, & 2-3 other main drainages, basically running in northwest/southeast directions. The drainages had large high plains hay fields scattered throughout all the ranch just like patchwork. PERFECT winter elk habitat! Now I remember why I live & hunt in Colorful Colorado!
Just up the road a spell from camp, we passed the first gate, and went to what ended up being the only decent "glassing spot," that we had of the area from the road. Fortunately it did give a very decent 50% view of the main drainage and the high hay meadows on the adjacent property to the east. We parked at that glassing spot and after about a half an hour of not seeing anything, we headed out. Over the next couple of hours, we basically cruised around the loop of the ranch and tried to scope out as much as possible, which ended up being not much, especially FROM THE TRUCK! By now I was pumped and needed to get my feet pounding the bushes! Back to the first gate just north of camp, and out of the truck with everything, including spotting scope to make a quick hike into the property and have a closer look. Not a half mile in, I run into a hunter, which turns out to be the son of a father/son group also hunting the same ranch. We chat for a second, where he lets me know that he had been chasing a nice 6x6 since 10am, but chased it right up onto the private ranch to the east. They had hunted all day, with the father coming from the north, while his son pushed through the ranch from the south, and saw only the small herd they were chasing.
I decided to push on as I barely had over 2 hours before darkness fell. Huffing & puffing all the way, as best I could I pushed hard, but the old crusty snow from weeks past was up over the ankles and made the hike a bit more difficult. I trudged on for an hour or so and found a decent spot to glass from, on the highpoint of a finger, that ran down a larger ridge. It had a big bush on it to help break-up my profile, so I parked it. Soon after I sat down, I spied a small herd on the very top of a high ridge to the east that was surely on the adjacent private props. From near two miles away I could make out two bull through the Burris, and one was a big 6x6 too. The two bulls were a good 300-440 yards below the ~2dzn or so cow/calves they seemed to looking out for. I returned my focus to the ridges on the property where I could hunt, along with the abundant hay fields that the property had laid out like a buffet for wintering elk herds. As it neared 4pm I made out a couple of bulls peaking out of a hidden pocket far above and again on the private to the east. They worked into a high pasture and began grazing to their heart's content. Within minutes they were joined by two much larger bulls who also seemingly appeared from nowhere out of that hidden pocket. Both very large 6x6 bulls, and both looked to be nice & heavy too. I tried to focus on looking over the ground that I could hunt, but the fresh sight of fat & content grazing monster bulls kept drawing my scope back to them. Now I know what the owner meant when he told me "don't get tempted" when he spoke of that private property!
I was on the south/southwest side of the main drainage and the rolling hills on the opposite side were large hay fields that stretched as far as I could see in both directions, and I could see for near a couple of miles in all directions except up the hill behind me.
Vid is actually taken the next day, while talking about this night!
[/URL]

Everything changed at right about 4:30 when I had already packed up the spotting scope and already contemplated heading back to my pick-up/drop-off point. I spotted some elk running down a hill and into the hay fields furthest to the northwest. As I lay on my pack to steady the binos, I was treated to a sweet sight when the first few I had seen where followed closely by well over 200 more and all quickly feeding into the hay field. I could also make out several really nice bulls near the end of the herd, that I would be tickled pink to bag as my first bull and the adrenalin got kicked up a notch, BAMN! I watched as the lead cow begin moving to the southeast right down the middle of the hay fields, and just like kindergarten children holding hands on a field trip, they all followed suit and filed in line behind her. I took a second to contemplate what to do, and quickly decided that I would slip down the small ridge I was on and work down a couple of small gulches to try and meet up with them if they continued to funnel through the hays fields in the direction they were currently headed. …So, I left my optics and pack, and high tailed it down the drainages in an attempt to get in front of them. I had near a half mile to hump in order to get where I wanted and they had nearer two miles to get to the same point, so I knew I had to move out fast. Huffin & a puffin I finally made it to the far end of the drainage and started peeking up out of it and into the hay fields…good…no sign of them yet. I am also still assuming that they are headed my way, since from down in the valley I cannot really see the higher hay fields on the hills above me. As I start to walk out of the drainage and into the narrow patch of sage brush between there and the hay, I spy the first of the herd coming down a funnel less than a mile away. I try to stay as low as possible and crawl the remaining 50 or so yards to the edge of the hay. I even managed to get there in enough time to calm down before they get near, so it all looks perfect at this point. …perfect, that is except for the failing light that is fast approaching. And as it nears 5pm! The hay fields at the point at which I am posted, is only about 300 yards wide, and the elk are coming right down the middle of the hay. They also look as if they are going to be working directly in front of me too. I am set up on a sage brush rest and ready as the first elk start moving in front of my muzzle at about 300 yards. Unfortunately for me, the wind was as bad as it could be and was taking my stank right to them. The first few winded me at about the same time, and stopped dead in their tracks. They milled around for just a minute, but the steady pressure from the herd behind, forced the hand of the front, and they pushed on through. The herd was only a few head wide at the herds widest as they were passing by, and as the minutes continued to tick away, still not a bull in site. Many, many spikes were seen along with the hundreds of calves & cows, but I had 8 days, and I had an either sex tag and an extra cow tag. Therefore I am waiting for those monsters at the back of the pack. Yikes, I still cannot see any bulls with only minutes of shooting light left. Even as the massive herd continues to rumble on by. Quickly I now realize that the 200 or so I had first seen, had now been joined by many more, and with at least 200 already passed me, I can still make out elk into the distance as far as I can see! A few more minutes go by, and only one decent 5x5 that is actually quite large, worked on the far side of the line of elk and I never really got a good enough bead on him to remove the safety. The minutes had ran out now, and I was now out of light! I am forced to sit there helplessly as a couple hundred more elk feed through within 300 yards of me. They were, in my conservative estimate, a herd of 500+. All in all, it took more than 15 minutes for the herd to work past me, and they were moving at a pretty decent clip too. I waited for the last bunch to get out of range, before I got my sorry butt up out of the snow and made haste for the scheduled pick-up. I had more than an hour hike if I were to go straight to the truck, but if I go after my optics and my pack, back up that ridge, I know it is going to be nearer two hours of hiking in the darkness. I elect to leave them for morning and head to the waypoint marking the road and my pick-up point. My buddy was to be there at 6pm, and it was already near 5:30 and I had over an hour hike back out of the drainage to get there. No problem, he did not have to wait more than a few minutes as I humped outta there just like I was still a grunt back in the late 80's!.

We get to camp, stoke the fire, eat some eats while I am telling my tale, then hit the hay like a ton of bricks with visions of billions of elk dancing in my head.
[img]http://i437.photobucket.com/albums/qq99/Pills69_2008/Hunting%202010/PC052500.jpg

Since they ask that you do not go into the properties until light, I got to sleep-in, in terms of normal elk camp awakenings that is! Light isn't until 7am this late in the year, and being only a half mile from the gate, I get to sleep until 6am…boy these Ranching For Wildlife hunts are "rough!"
Just look at the beautiful properties! …seems like all of them look just like these that Kiwi is running through…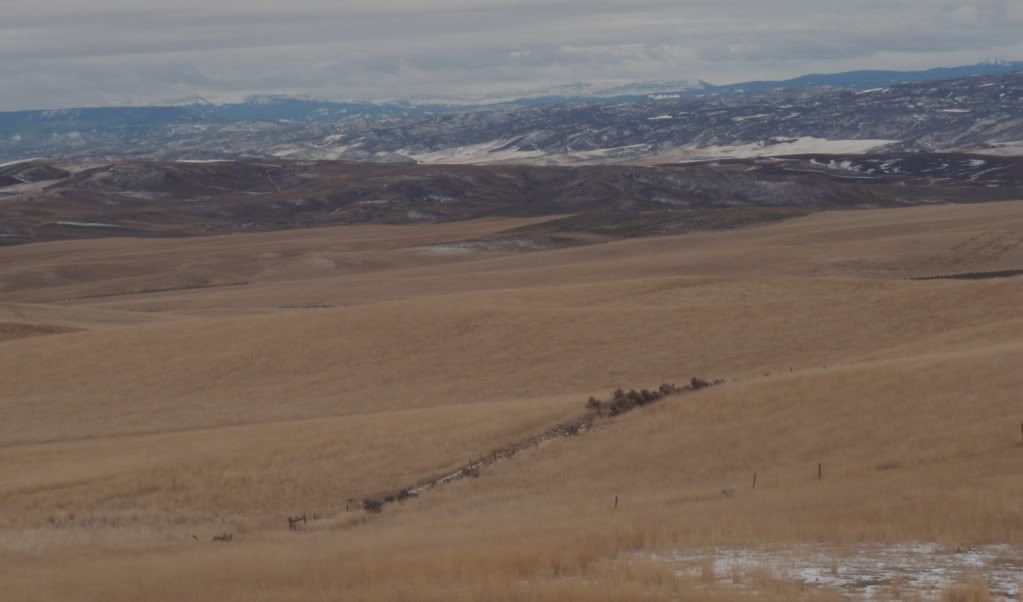 …and of course all the evenings look just like these!