Discussion Starter
·
#1
·
Finally got out of the cold rain. Drove the rig and boat thru walls of rain and snow flurries last Sunday on way to Powell. I didnt want to hafta deal with hours of filleting so I stacked the odds against us. Fished from 9am till 4pm. Hot sun cloudless calm skies. And fish where no one else was fishing. I think there was a reason for that.
Also picked the day after monsoonal rains had gully washed debris fields of brown crap and logs into impenetrable mats all over the lake.
Actually caught most of my fish and the largest ones fishing the debris fields near shore.
I was virtually the only boat fishing in Wahweap bay for 4 days. And was 1 of only 2 boats fishing in Navajo Canyon. Went all the way back to where the debris fields prevented any further movement.
I went there looking for eyes but only caught 1. The flatsofnobitemus were devoid of any life. Even fished well up into 5 feet of water but no love.
I was catching smallies anywhere there was a rock, and stripers if I searched for the schools. Found a huge school of bluegills but they were small.
So it wasn't a hardcore fishing trip and we had fun cruising in the Utah ocean.
Largest fish was a 6lb striper. Damn those things fight hard. Best lure was a 3" twister on a 1/4 oz lead head. Even got a catfish on it. Water temp ranged from 67-77 depending on location and wind.
Some meat-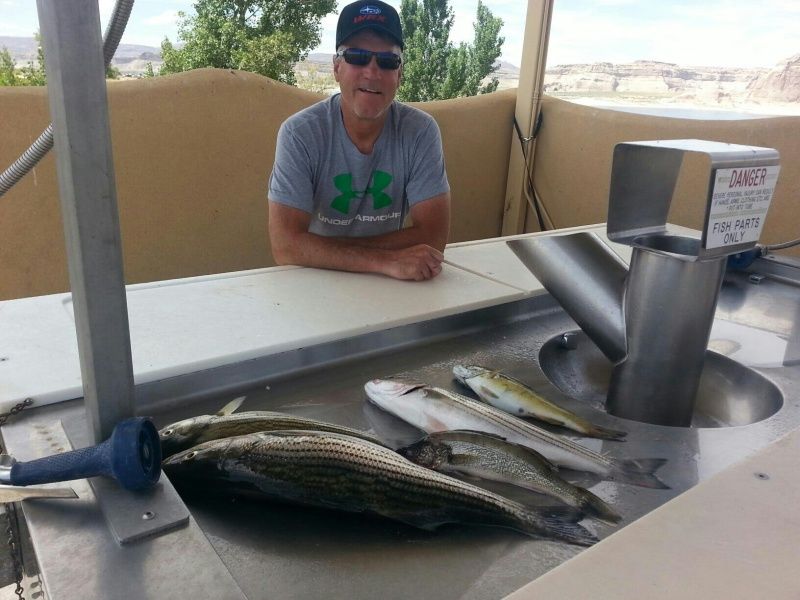 The old fish dog-