Discussion Starter
·
#1
·
After a long, tough contract in Alaska over the winter, I was excited to get back in Colorado and revert to my obsessive fishing behaviors. The plan was simple, find a cheap motel with a monthly rate near prime walleye water for the month of March so that I could get my first teener 'eye. As usual in the trophy fish game, it didn't take long for the excitement to fade. I fished 7 consecutive nights with only a skinny 26.5" fish to show for. By no means was I surprised by such results, but it definitely didn't make grinding out the hours any easier.
Last night I was amazingly close to not hitting the water. I just was not feeling it. I sat in my dumpy motel, where the heater is broken, the bathtub leaks after showers, and the microwave they gave me has no interior plate. As I was contemplating what exactly it is I am doing with my life, a motel employee who just got done serving 8 years in prison informs me the wifi still doesn't work (3rd straight day) because the owner who got taken in by the cops for beating his girlfriend (4 days ago) had forgotten to pay the bill. I realize that I am putting up with this for one thing: fishing. No reason I should take a night off, so I head out into the darkness.
I was pleased to have the company of another vampire for the first hour or so, but when he had to take off, I decided to move spots and give the 8 inch Huddleston a quick rinse. On my third cast I felt the unmistakable shock in my wrist of a bait hitting the back of a throat. Before long I was in amazement as I looked at my new PB walleye: 31.5 inches and 14.22 lbs.
She absolutely CRUSHED the Hudd, and with how small it looked in her mouth, I wondered if maybe I need to start throwing the 10 inch. >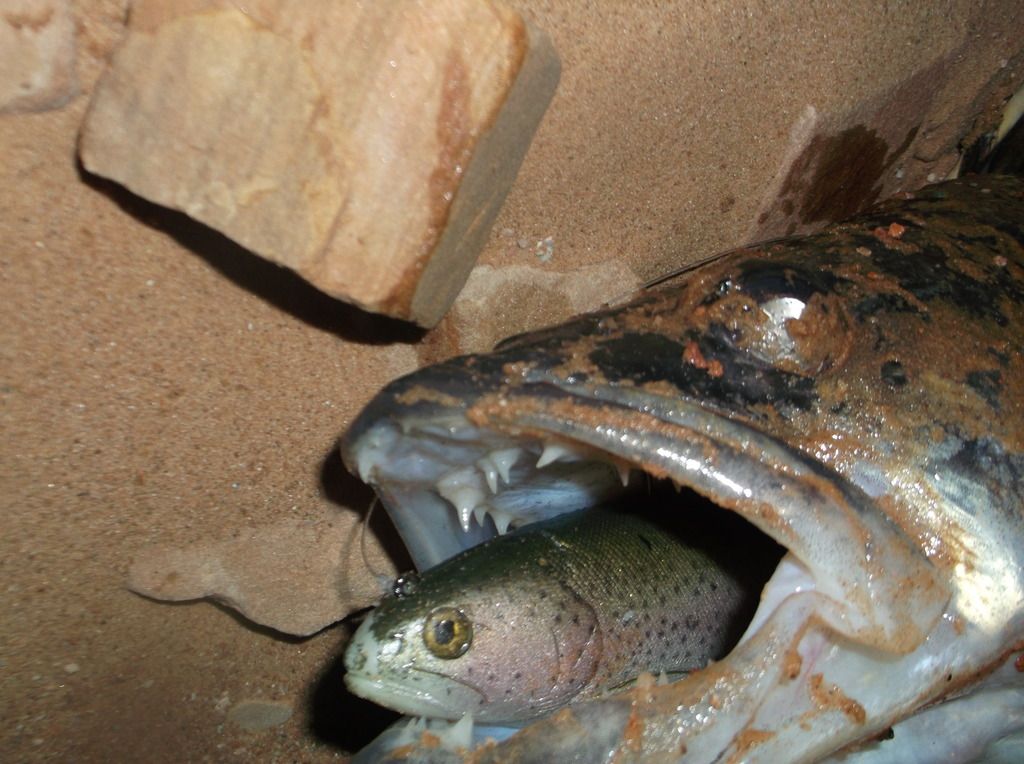 As most of you know the stress of catching a big fish by yourself can be overwhelming. I worked quickly to get a pic, measure, and then weigh. I was concerned though because from the moment I landed her until I was finished, she was extremely docile, even by walleye standards. I was worried maybe she wasn't doing too good but was pleasantly surprised when she immediately took off like a rocket down the shore on the release.
Earlier in the night I was joking with my buddy about how expensive trophy fish pics are when you account for everything (gas, lodging, equipment, time lost, food, etc.) We both agreed it was best not to know the exact price of each fish pic
. All I know is that there could not have been a price too steep to experience this fish. It was also pretty amazing that I got her on a full moon at the crack of midnight, almost like a Disney channel movie ending ;D. Good luck to everyone else this spring, happy fishing!