Discussion Starter
·
#1
·
I wanted to go to Forbay today, but when I woke my dad up at 5:30, he wasn't down. So I woke him up to go the RMA around 7:00. Today is the last day you can fish there, except for a few hours next week. I wanted to get another pike, so we strted at Ladora right by the house thing. I threw out a super spook and on the first cast got a huge hit. After a few moe casts, I switched to an oange buzzbait. On the 2nd cast, BOOM, I got my pike. We tried a few more things there, but we didn't get anything, so we went down to Mary. We tried everything without any luck, until I borrowed the fly rod my dad was using. We have both caught trout on flies, especially my dfad, but never any bass. I tried a yellow popper and sure enough, I got my first bass on a fly rod. That was fun. My dad was jealous, haha. Anyway, we left at 11:00
Perfect day, dreary, chilly, slight rain every now and then....perfect!
BTW, my dad has a skunk he is willing to give away for free if anyone is interested, I swear he needs to drop this skunk.
Pike, small but a fighter, with a big scar above his dorsal fin, ranger suggested bald eage attack?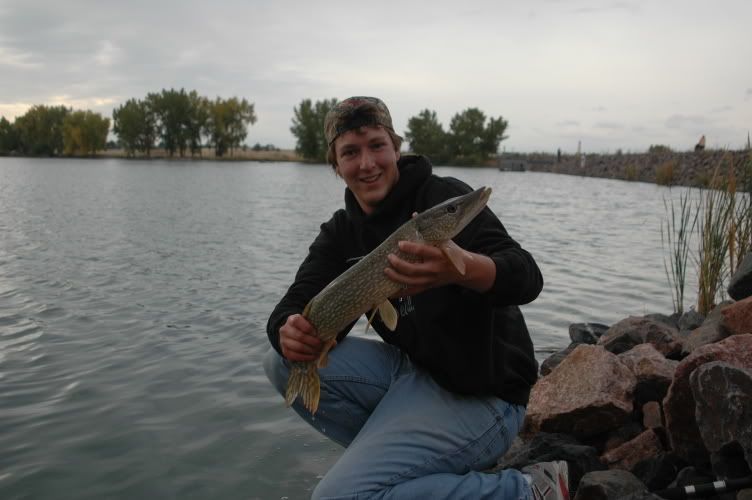 Bass on the fly.