Discussion Starter
·
#1
·
I decided to see if the Rocky Mountain Arsenal is as good as everyone says it is. It is. My dad and I got there right before 9, took the class, and headed up to Lake Ladora. I was set on catching my first pike, because I've never caught a pike. I was armed with a cheap swimbait, some metal leaders, pliers, and the rest of my tackle box. My swimbait wasn't swimming right, so I switch to a bright green spoon. That wasn't working, so I put on a giant Blue Fox muskie bait. You can see it in the picture below. I tried several different retrieve speeds. I cast out, let it sink, and reeled very slowly. Then about ten feet from shore...BAM! The drag on my Shimano baitcaster was flyin'. I reeled and reeled until finally I hauled this sucker in. I suppose as far as pike go it's not very big, but for my first one it was huge. He got the last treble, so I didn't have to reach into his toothy mouth. Those things are fat. I couldn't even fit my hand around it. I took the pictures and released it. The very next cast I missed a hit. Then a big rock bit my lure and wouldn't let go, so I had to cut the line. I lost the lure, but I was so syched about the fish I didn't care.
Being from Houston, I couldn't help but test out the bass skills. My dad and I headed down to Mary's Lake and walked along the walkway to an empty spot. My green tube jig nailed em'. I was working the bank and caught four bass, two fo which are pictured below. The ones I didn't post were pretty small. I guess my bass skills are pretty good, because I caught four in 30 minutes and I only saw a few others caught around the lake. (I hate to brag...hehe.) What a great day it was. We left around 11, but I plan on going back every weekend I don't work.
My first pike...and a big smile.
The same pike from a different angle, you can see what he bit.
Pretty nice bass.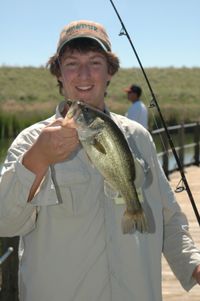 Very nice bass.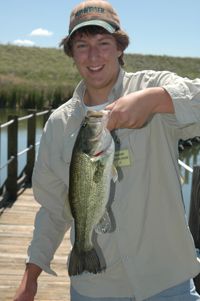 Thanks for all those who reported on the arsenal. I never would have known about it without you guys. This pike is thanks to those guys. The bass are thanks to the great lake and my tube jiggin'.
Even if I hadn't been fishing I would have had fun, this plave is beautiful.
PS
Hit the Meridian Pond to show my friend Heather how to fish. She caught a ton of trout, so it was fun, but they didn't stalk anything big like last year. I wouldn't waste your time going there unless you have kids.
Sorry for writing a book, I love this site.