Discussion Starter
•
#1
•
Last Sunday 4-4 James took me to a fishery that I had never ever casted into even once before, for some ice out trout fishin'. I had been bass fishing the night before around midnight and it was warm! I only threw on my coat while bass fishing because I could carry a tray of lures in the pocket and the camera in an other pocket so kept me from having to carry my tackle box or a bunch of other gear. Anyway it was about 60 degree's out that Saturday night and Sunday I don't think it ever got above freezing the whole day. We drove through a small blizzard to get to James's spot and I was glad I had packed my neoprene gloves, wool pants, hoodie, warm boots ex. I had also brought one of my new spin rods; Cabala's Tourney Trail 7'6" ML w/ my Abu Garcia soron spooled w/ 8# Fluoro. This was my first time using it, I got the rod for; finesse cranking, float&fly, fly,&bubble, trout size inline spinners, small spoons, grubs ex. The rod really worked well for me, not a real expensive rod, got it on sale for $40 from $60. Really the reason I picked that rod was just because I had a hard time finding that length and action, which was exactly what I wanted for use of float&fly and fly&bubble, I like a longer rod when you're casting with a five or six foot leader. Anyway for the fishing....it was awesome! By far my fastest day of the year so far. James and I both hit double digits. I have distorted the back ground on some of the pics as to not reveal James's spot. If you can tell the spot anyway lets keep in quiet
. I'm guessing it probably iced up again Sunday night anyway because I checked the weather and the low was supposed to be single digits that night. Here's the pics.
My first of the day and first on the new rod. 22" M.R.T. really I think it would have been at least an inch longer if not for the ripped up tail. Fun stuff! ;D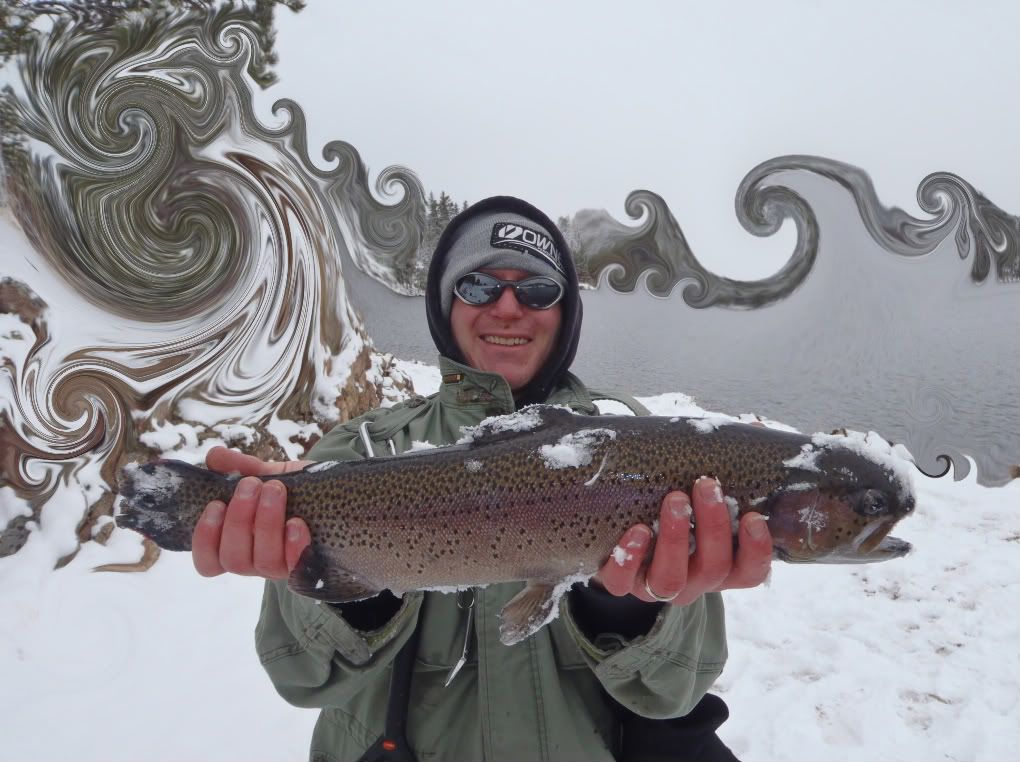 Here's an other one of my better ones for the day 21" again notice the ripped up tail which is probably making it an inch or two shorter than normal.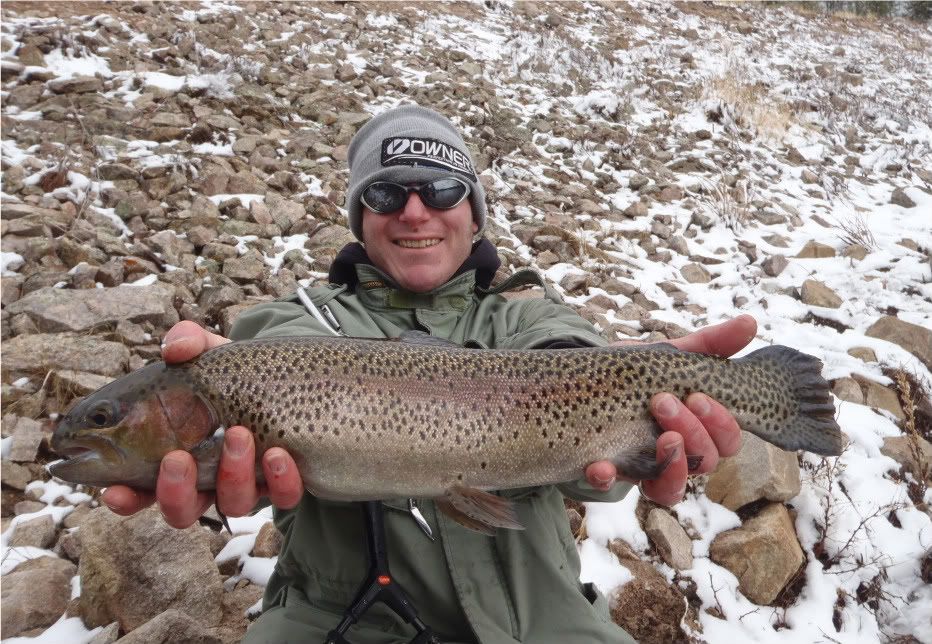 And as for the name of this report.."slimer slapped!" I didn't even drop her though...I'm getting better at this.
Tight lines.