Discussion Starter
·
#1
·
My family and I packed up and headed out on Friday 4/25 at 1:45. *By 4:15 or so, I had my cousin and his wife with me and we were on the water. When we got there, the wind was mild and air temp was 80 degrees. *We started fishing a corner of the lake that had 60-61 degree water, but couldn't seem to get a bite.. within an hour and a half, the wind had come up to about 15-20mph. *The air temp was still steady and the water temp had dropped to 57-58 degrees. *We fished HARD for the next 2.5 hours and never got a fish... Got 2 or so, maybe bites! *By the time we left, the water was 54-55 degrees. *The air temp was still over 70 degrees. *
SOOOO I ask ya, how the hell does the air temp stay higher than the water temp and you LOSE 5-6 degrees of water temp in 3.5-4 hours. *We marked fish in two areas THICK.... most suspended (some large fish on the bottom). *No fish landed.... While getting skunked is not a first, having the water do this was. I am hoping to hear some theories (I have my own) on the condition.
Sat AM we got up and got to the lake with my Father in Law and a few others in tow. *The water was 57-58 degrees as soon as we got on the water... so now, the water temp increased overnight by 2-3 degrees! I just don't get that! *I was amazed. *We got hits as soon as we got our lines in the water. *My father in law caught 2 big drum and lost 2 whites at the boat. The rest of us landed whites/drum.. My cousins' wife had the B&W kitty, but finally caught a sweeeeeet carp!!! we made her hold it for a pic!!! She eventually got off the snide and caught a couple whites. *
By the end of the day, water was 61-62 degrees. *Wind came up big time so we left and had a killer fish fry... *Here are the pics.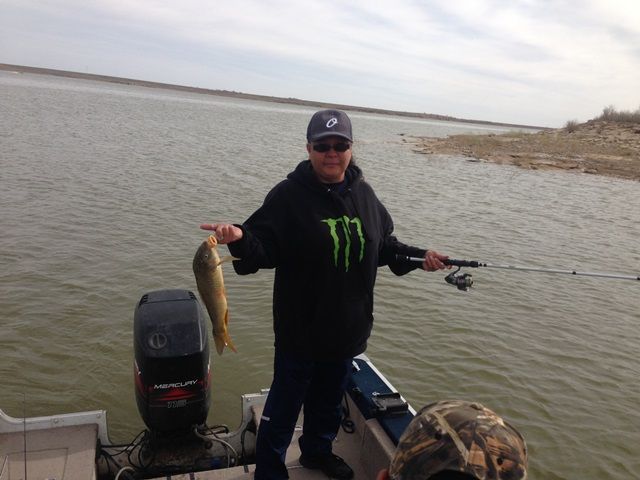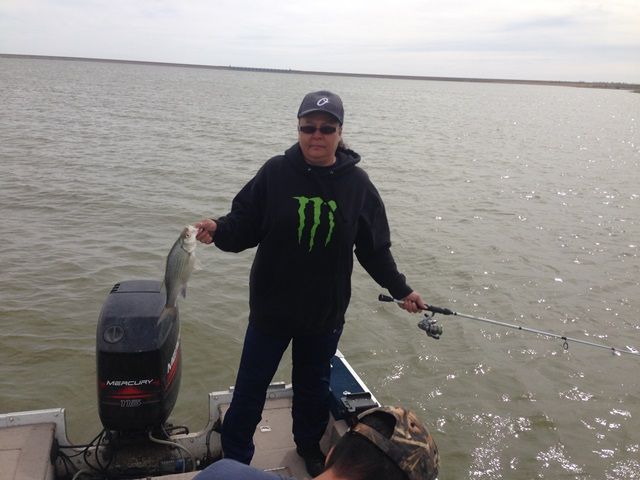 The last fish was the fattest 21" eye I have ever caught..