Discussion Starter
·
#1
·
My husband (_colorado) has been on this site for about ten years so I decided it was time for me to make a post.
We spent last weekend in a nice condo in Steamboat and killed some time during the day by fishing at Stagecoach. We started around noon which was after a nice breakfast and sleeping in. We fished close to the road by the inlet.
My husband tied on a jerkbait, showed me how to twitch it then went to rig up a pole for himself. While he was doing that I thought I got snagged on a log or rock. Then it began to move so I told him "I think I got something". He came over, told me to adjust the drag a bit and watched. After a few minutes I got the fish close to shore and both of our jaws dropped when we saw the size of the fish.
It made a few runs but my husband told me how to play the fish. When it got close we realized we didn't have a net. He tried once to land it but it spun away and took drag again. After another minute or so it was back at the edge. This time he used two hands to flip it on shore. When he did he cut his finger on a treble hook sticking out of the pikes back. But we landed the fish!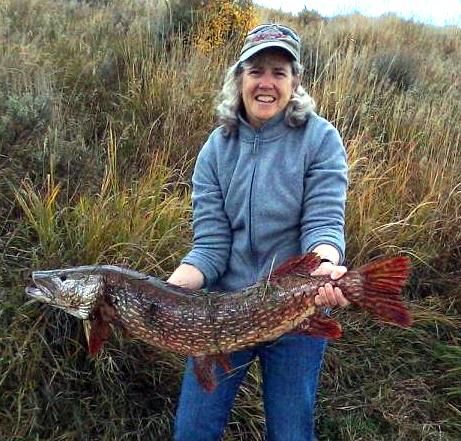 I couldn't believe I did that! He went and got his tape measure and it was 39" long and fat. You can see his two feet in the picture (size 11.5) and his cute little 18" pike next to mine - ha ha. It was real red too, just like in the pictures. It also had an orange CPW tag on it. I haven't called that in yet but I will. I never thought I'd catch a fish like that while goofing around for a couple of hours. It was so heavy I could hardly lift it. My husband guessed it weighed right at 20 pounds as he caught a 39" pike before.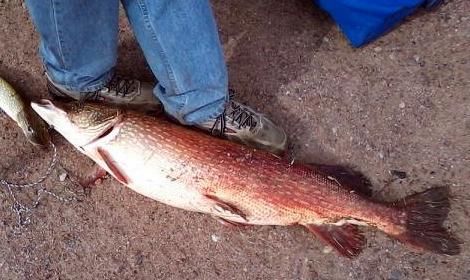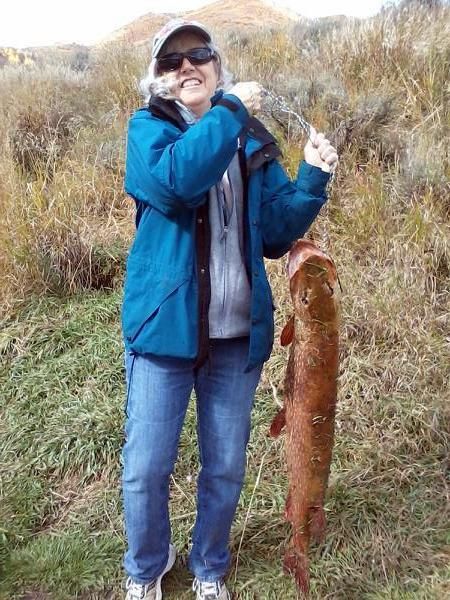 So my first big pike was a Master Angler so I thought I'd take that for my name (Pikema). Hopefully there will be more posts of big fish in the future.
Oh, I had to ask my husband these questions: why do you need to get to the lake so early when you go fishing? Tell me again why you need a boat?