I want to share something with you guys... something that took my whole life to understand, but can be summed up in several pictures...
As a kid, I was fortunate enough to be able to fish with my dad and uncles quite often. We had one spot we frequented... One special "secret" family spot that "nobody else knew about"... It was our haven, and as a kid we used to go once a year from the time I was 5 until I was 9 or 10. It was the greatest memory of my childhood, by far.
This lake means as much to me now as it did then, and today I started going through old pictures, remembering. (Note: in the EXTREMELY unlikely case you know this lake, please keep it to yourself)
This was a hike-in location, and we NEVER once saw any other soul there. We would always get there on a Friday afternoon, set up camp, toss a line out, inflate the boats and maybe fish a little bit before hitting the sack. Saturday was all day fishing, Sunday we would fish until noon or so, then pack out and head back to Denver.
This trip was in 1988:
My fishing buddy and I out in the boat, slaying some brookies!!!
Fish ON!!!!!
Back at camp, proud of the day's take!
My best buddy... never left my side as a kid.
Always a 100+ fish trip for each of us...
NOW.... Fast forward to 2003. Living in another state, we haven't fished our beloved spot in 10 years. We planned a family vacation to come home to Colorado and take one more crack at our hidden treasure lake. My fishing buddy had just died at the age of 17, but not much else had changed. The lake was EXACTLY as we remembered it, the fish just as hungry, and they tasted JUST as good. Notice the similarities in the pictures in THIS set of photos compared to the last.
Got to the spot mid Friday afternoon and set up camp
Got the boats inflated and ready to ROCK!!! Notice the yellow boat? It lasted 20 years before finally running out of life.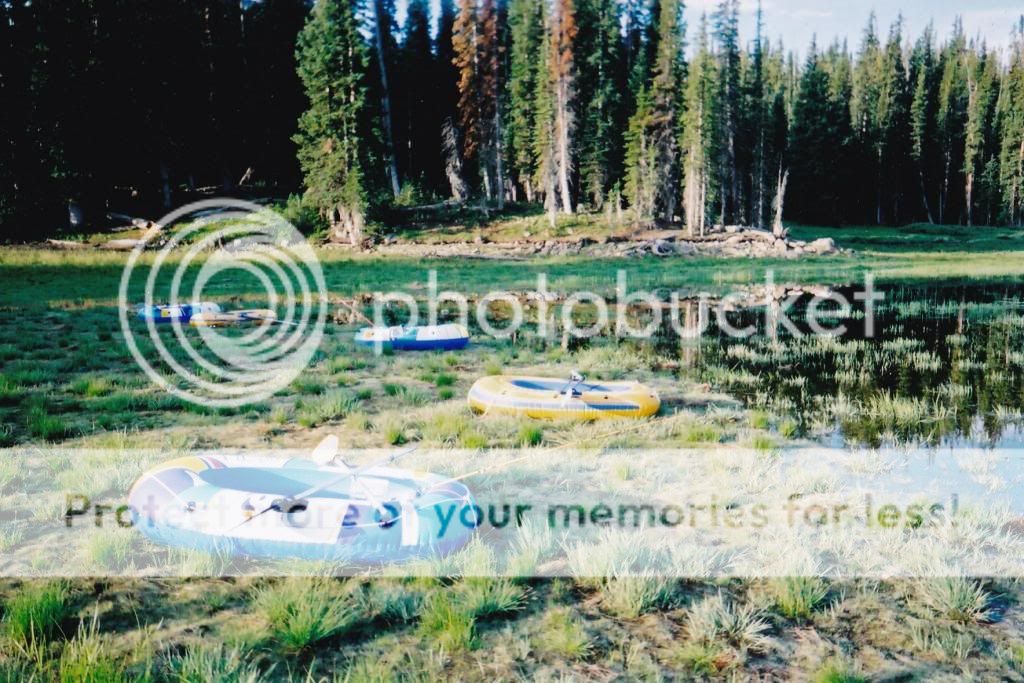 Brookies just the same... I, however, was a little different. =)
The cousins and I showing off the day's slaughter. All these got eaten that night.
Fish ON!!!! (part 2)
Uncle Lance and Uncle Mike cooking up brookies and cornmeal mush!!!
The lake at sunset... the best time out there.
So, I guess I posted this for a few reasons... One, to show that fishing (unlike people) sometimes never changes... 15 years later and all that changed was us. It's amazing to look at these pix and contemplate the timelessness of our sport... the comeraderie that comes with it, and the memories we built as a family.
Fishing is more than a rod and reel... It's more than fish and a fisherman. I don't know how to put it into words, so I hope these pictures speak for me.