Discussion Starter
•
#1
•
Today was my first real fishing voyage out on my "new" Jon boat. I took it out last week to CC for a test run with my wife and two young boys. I was anticipating taking them to Antero if everything went well. It was evident that they are much too young to stay in the confines of a boat for even 45 minutes!
So, off I went today on a solo mission. The water was fairly calm early on, but the south park wind started to kick in steadily as the morning progressed.
I did have some luck with the MRT's. 5 Rainbows ranging from 12-16". All caught on lures: X-Rap, Little Cleo and Kastmasters. I know now why it is a good idea to have a net on a boat
. Missed landing a couple in the 16-18" range at the boat. There were quite a bit of weeds, so lure cleaning was a constant. I even threw out a bubble with a rat finkee and a little slice of crawler, but no love. That set up mostly got hung up on weeds. On one retrieve of the kastmaster I felt weeds on the lure, so I started reeling in quickly. Just as I yanked the kasty out of the water a truly large fish just shot across barely missing the kasty. It was only about 4' from the boat. Good ol' speed changes in the retrieve
!
Then a few casts later the first cutthroat ever out of Antero for me was boated - just under 18":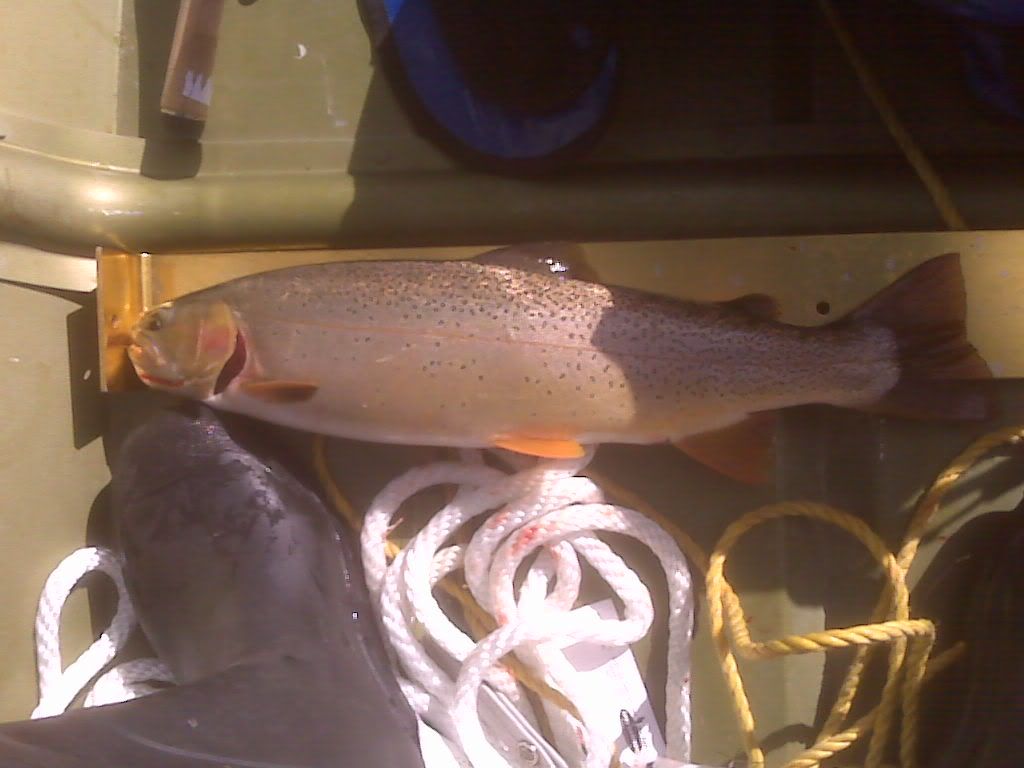 The wind started picking up and I didn't want to find out if the Minn Kota Endura could outlast the wind, so I headed out around noon. Overall a pretty good maiden voyage. Sun was out most of the day, with nice scenery of snow covered peaks to the west.