Discussion Starter
·
#1
·
I get out of school earlyier than my buddies, so I get bored and end up fishing by myself a lot, but it's all good. Today I packed a backpack with my waders and stuff, and headed to Waterton. I usually don't fly fish by myself, because I never know what to use, but my dad was at work, and I had a craving. Got to the trail around 1:30, Biked up approximately 6 miles, but I didn't feel like going all the way. Found a bunch of deep holes, but had no idea what to use. Tried a bunch of stuff. I tied on this one thing that looked cool, and a red san juan. One small split shot a foot or two up. Even though I biked a long way, it was in a pool below the Martson Diversion dam that I got my first trout, and it was tiny. A pool lower than that I pulled aout a really pretty one about 13 inches. Both fish did not wanna settle down, but the bigger one flopped the hook out and layed in the ggrassy stuff long enough for a picture. I found out from my dad the unknow fly was a small stonefly larva thing. He seemed surprised I caught one on it. The small one took the stone, the bigger one the san juan. Both fish came about 3 miles into the canyon around 5:00. It was great weather, warm and not windy. Nice to be by myself for a bit and get a couple fish. I took longer to get down than I did riding up, because I was looking for sheep. Didn't see any.
Plenty of open water about 6 miles up.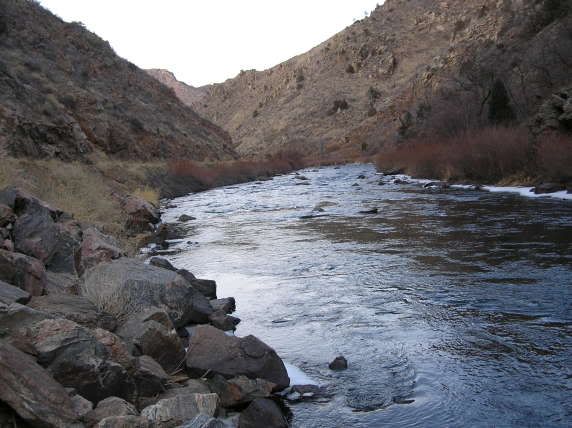 Tiny trout.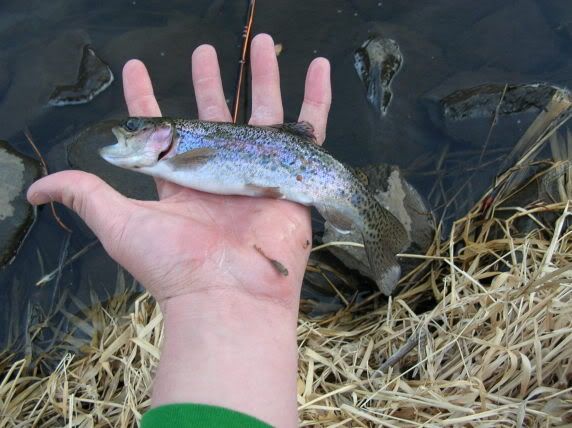 Pretty trout, getting dark, bad pic, about 13 inches.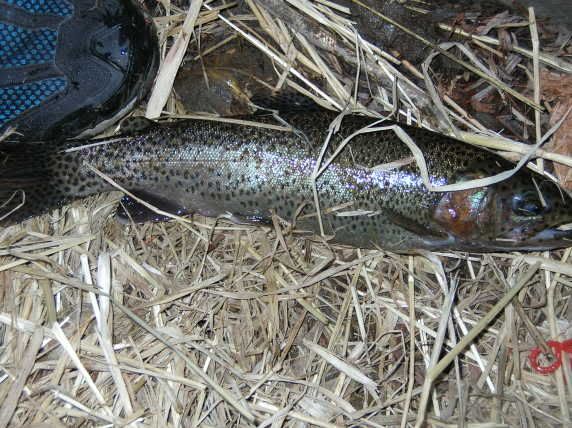 On the way down...I stayed longer than planned, kept stopping to fish and before I knew it it was dark...
Uneven rack, pretty cool deer.

Great day on the river.
Didnt even put the waders on.