Discussion Starter
·
#1
·
There are two reasons I get a little sad when I hear trout being bashed on this website. First, stocker bows are how many of us first got our roots in the sport as kids. I know that I would have given up the pain and misery of fishing long ago if it werent for powerbait and hatchery fish being dumped into local reservoirs. Second and more importantly, now that I am grown up and attempt more challenging angling feats, I realize the incredible value stockers have as a forage base to our very few predatory fisheries. Many of our trophy lake trout, walleyes, bass, and pike reach their sizes due to the MRT diet. After all, how else could our state record 'eye be greater than that of proclaimed walleye capitals Minnesota and Wisconsin?
I arrived back in Colorado Thursday with the plan of fishing the next three nights at one lake looking for a trophy walleye. Tonight was day three and failure seemed inevitable. As I approached close to ten total hours on the water without a sniff, the fish I had been longing for finally bit and I was able to wrestle her to hand.
She went 30 inches and 10.42 pounds. The best part of the interaction?? That had to be the ten inch stocker bow that was puked up and actually had two trebles hooked to, with the final treble hook stuck in the corner of the walleye's mouth.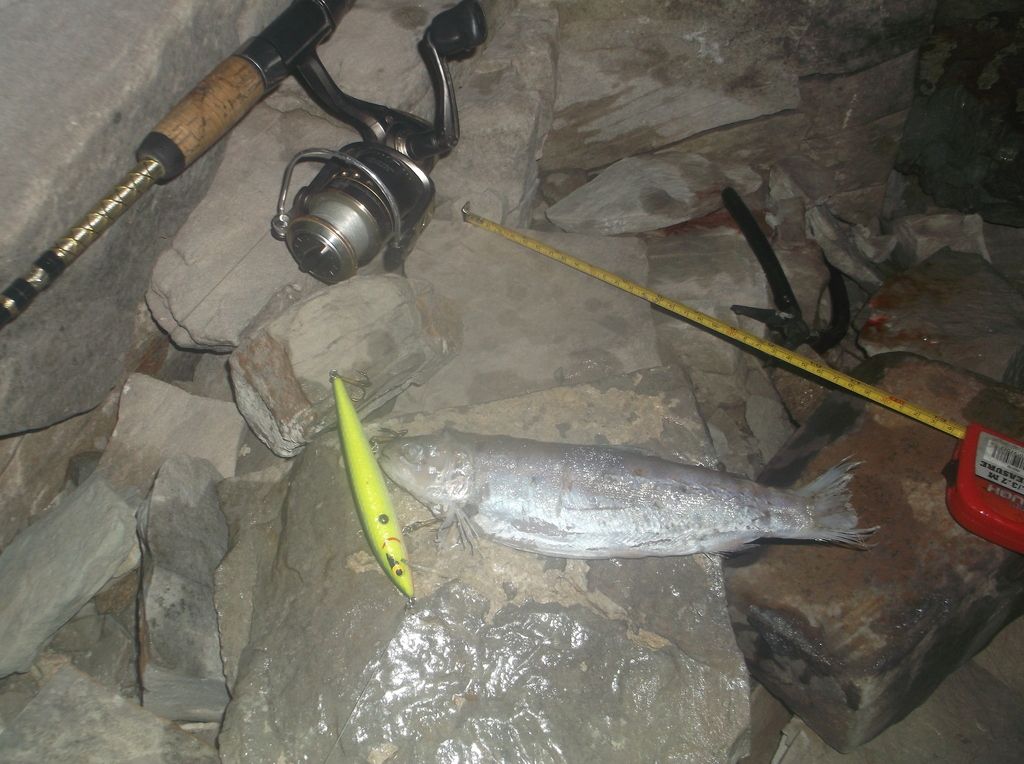 If only she had kept her dinner down she might have gone 11 pounds and been a PB. My first thought after seeing the trout upchucked was that maybe now I can convince FishDr to do a little swimbaiting with me when I am back in the front range in a week.
Moral of the story: don't let the MRT mentality of CPW get you down. Instead, embrace our unique (and expensive) forage base, and you may just end up with a trophy fish. >