Discussion Starter
•
#1
•
WIPERS
Wipers have been kind of an elusive fish for me, the very first time I fished for 'em I went out one morning with a fly & bubble and with in a couple of hours landed one about 18" long. {That was at Union Res. six or seven year ago} At the time I was thinking "man I could really get into this wiper fishing!" But after that time I have had a series of terrible skunking for wipers, rivaled only by my series of skunking for tigermuskies which I have never caught at all. This season I vowed to make a mends and go for the wipers untill success was mine! One of the main problems I've had fishing for 'em is the fact that I've had some less than favorable experiences with the crowds of people I've encountered at some of the front range wiper fisheries, I had just such an experience a couple weeks back at Union which made me real consider just never going back there at all....I figured I might have better mojo at some of the other wiper fisheries in the state, even if it was a drive to get to them
ROAD TRIP
I took a long weekend from work last week, my wife and I loaded our vehicle w/ camping gear, and {of coarse} fishing gear and we hit the road with warmer weather {than here in Estes Park} and wipers in mind. Mapquest gave us an estimate of five and a half hours windshield time to get to our location. Five hours into the drive I knew we were getting close, it wasn't a bad drive at all {up to that point anyway} but I was ready to get out and start casting. It was a nice evening about 85 degrees out, the mapquest route told us to turn on a county road, It didn't look like a very heavy traveled road and I was sure it wasn't the main entrance to the lake we were looking for, but I thought maybe it was a short cut using some back roads....well the route took us in kind of a stair step pattern across four or five different county roads with the quality of the roads decrease each time. I was really starting to wonder but each time we viewed the route we were getting closer and I was thinking we'd hit a more well traveled road at any time. A few more miles and the road was more like four wheel drive trail , I was glad to be in a jeep! Every time we crested an other hill top I'd expect to see the lake, then finally we could see it. Only it was still a long way from us and we didn't see any roads in between..soon after mapquest told us we were at our destination {not even close!}
. We were about ten miles back at that point an had to turn around, it was a slow going ten miles too. But we back tracked and I found what road I thought would get us to our lake...
We saw this abandoned house a few miles back on the county roads.
ARIVAL
After the hour or two detour we finally found our destination and got our camp set up. WE cooked some hot dogs and I dozed off with visions of wipers dancing in my head...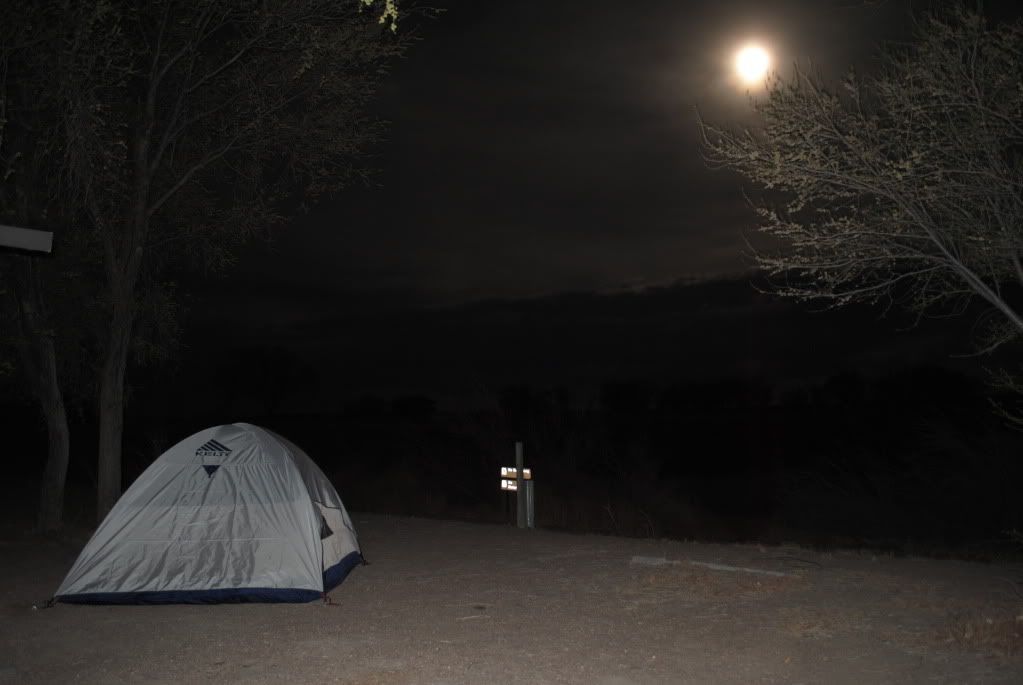 FISHING
Ok on to the fishing, if your reading this you're probably thinking "finally the fishing!" well trust me I was kind of thinking the same thing that morning, I got some coffee and breakfast done with a quickness and we were after the fish. Through the coarse of the day we through the following lures: Fly & bubble w/ several minnow imitations, float & fly, road runners, curly tail grubs in several colors, three sizes of rattle traps, jerk bait, spinnerbait, and a crank bait. We also had a catfish set up out the whole time, we had several bites on the catfish rod but I think I had to heavy of a set up. I started out w/ a 4/0 circle hook because we were not watching it that close, I did see some bites but the fish were not running with it. I put on an octopus hook but still missed the bites...I heard from some of the other fisherman out there they were catching cats but they were small cats so I guess my set up was over kill. As for the wiper my wife caught the first one, fly & bubble, then I caught a dink walleye, I think it was the smallest walleye I've ever caught...
not what I was looking for. Then I got a wiper. Both fish were on a 3" grub w/ 1/8 oz jig head. I had three rods set up and I was throwing the grubs on my trout rod 6'6" lite rod w/ 6lbs mono. I don't fish 6lbs line very often and on the way in there were some big rocks I was worried the fish might hit and break off. We saw it was a wiper and my wife said "look your bad wiper mojo is broken!" .."uh it's not landed yet I said.." and I had a tense minute of keeping the fish out of the rocks then it was in the net... ;Dman was I happy! Later on in the day my wife got one on and my daughter faught it and landed it that was the coolest part of the day! All in all nothing huge but I real fun time fishing all the same.
DRIVE HOME
We stayed one more night then got on the road, the drive wasn't bad at all with out the ten mile four wheel drive detour. We went through a couple rain storms on the way. It was a really fun trip and the curse of the wiper skunk was broken! Tight lines.